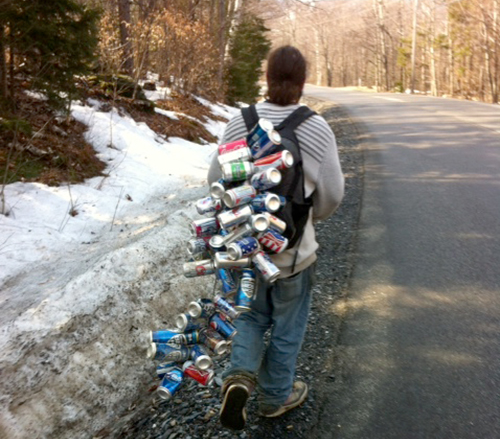 On Saturday, May 3, Governor Peter Shumlin, Lt. Governor Phil Scott and other state, business and community leaders are asking local volunteers to join them in collecting trash outside for Vermont's 44th annual Green Up Day.
Local residents can find Green Up bags and information at a variety of locations.
Warren
Empty bags are available at the town offices and at East Warren Community Market. Full bags can be dropped off at Earthwise Transfer Station in Waitsfield or at the East Warren Community Market between 9 a.m. and 1 p.m. on Saturday. For more information, email the Warren town clerk at This email address is being protected from spambots. You need JavaScript enabled to view it. or call 496-2709.
Fayston
Empty bags are available at street intersections throughout town. Full bags can be dropped off at those same street intersections to be picked up by the road crew. For more information, email Nicole Migneault at This email address is being protected from spambots. You need JavaScript enabled to view it. or call 496-2083.
Waitsfield
Empty bags are available at the town clerk's office. Full bags can be left on the side of the road to be picked up by the road crew. For more information, email Valerie Snapp at This email address is being protected from spambots. You need JavaScript enabled to view it. or call 496-2280.
Moretown
Empty bags are available at the temporary town offices. Full bags can be left on the side of the road to be picked up by the road crew. For more information, email Mike Dimotsis at This email address is being protected from spambots. You need JavaScript enabled to view it. or call 496-2812.
Duxbury
Empty bags are available at the town clerk's office and at Duxbury Country Store. Full bags can be dropped off at the town garage or on the gravel pull-off leading to the track/recreation field across the street from Harwood Union High School (leave bags to the right of the chainlink gate). For more information, email Brenda Clarkson at This email address is being protected from spambots. You need JavaScript enabled to view it. or call 496-7094.
Green Up Day is organized by Green Up Vermont, a nonprofit organization that promotes the stewardship of the state's natural landscape and waterways and the livability of its communities by raising public awareness about the benefits of a litter-free environment. One of the ways it does this is by asking residents to pick up trash around their town each year.
This year, businesses are also stepping up to help ensure that Green Up Day has enough resources. Green Mountain Power will serve as the signature corporate sponsor for Green Up Day for the next three years. Other business leaders include Subaru of New England, VSECU, a credit union for everybody in Vermont, Casella Waste Systems and many more.
{loadnavigation}