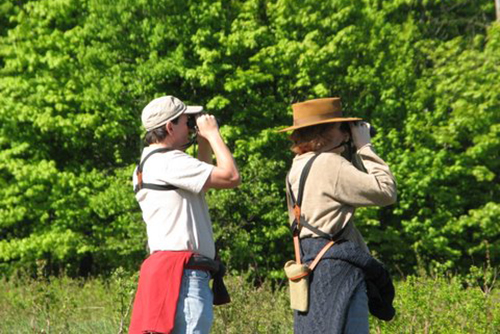 Mad Birders is an informal group of birding enthusiasts of Vermont's Mad River Valley and adjacent areas. Birders of all ages and abilities are welcome. Members meet promptly at the time posted. Walks may be through wet areas, so sturdy, waterproof footwear and dressing in layers for cool, rainy conditions are advised. Bring water. Walks are scheduled for two hours on weekends and 90 minutes during the week (unless otherwise noted).
Walks are free for Mad Birders with a suggested donation for others. Annual memberships are available.
Check the Mad Birder website (madbirders.org). Contact Pat Folsom (496-3663), Nancy Turner (496-2523), or Jeannie Elias (496-4730) or email This email address is being protected from spambots. You need JavaScript enabled to view it.. Note: The numbers in parentheses indicate the input to google maps to get the correct location on the website.
Saturday, May 3: Mountain Valley Farm, 1719 Common Road, Waitsfield. Meet at 7:30 a.m. at Geigers' on Common Road for this walk. Gib and Sue Geiger have seen many species at their farm over the years – saw-whet and barred owls, Baltimore orioles, for example. Gib Geiger, Patti Haynes.
Thursday, May 8: Geiger property in Center Fayston, Jeannie Elias. Center Fayston Road at 7 a.m., two miles from intersection with Route 100 in Waitsfield. Watch for drive on the left just past the big curve.
Saturday, May 10: Knoll Farm, Nancy Turner and Ann Day. Meet at Knoll Farm on Bragg Hill at 7:30 a.m. to bird this beautiful property, one of our most popular walks.
Thursday, May 15: Mad River Path at Big Picture Loop, Jeannie Elias. Meet at Big Picture parking lot at 7:30 a.m.
Saturday, May 17: Camel's Hump State Forest, Gaulin Boulevard, Alison Wagner. Meet at Shaw's in Waitsfield at 7 a.m. to carpool over Route 17. This walk starts at the end of Dick Gaulin Boulevard, off Route 17, just south of the intersection of Route 17 and Gore Road. Parking is very limited. We'll meet leader Alison Wagner at birding site at 7:30 a.m. This is a moderate uphill hike, wear sturdy, waterproof footwear, bring water. Migrants should be plentiful. Note that this is a four-hour walk.
Thursday, May 22: Freeman Hill, Jeannie Elias. Meet at cemetery on Freeman Hill Road, Moretown at 7 a.m. to walk this quiet dirt road.
Sunday, May 25: Big Morning at CrossHaven Farm, Scott and Pat Sainsbury. Teams of birders will cover different areas of the farm to discover as many species as possible. Bird walks will start at 5 a.m. and 7:30 a.m. and with potluck lunch following. There is a suggested donation. More details later.
Thursday, May 29: Blueberry Lake, Jeannie Elias. Meet at the south end of Blueberry Lake on Plunkton Road at 7 a.m. We'll check out the lake, woods and meadows for migrants.
Saturday, May 31: Scrag Town Forest, Pat Folsom. Meet at the parking area at end of Bowen Road at 8 a.m. to hike to the beaver ponds on Scrag. This will be an all-morning hike. Wear hiking boots, bring water, lunch, insect repellent. This is the third year we have done a monitoring walk for this area.
{loadnavigation}