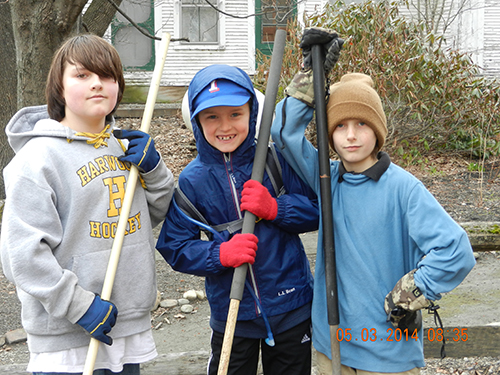 Green Up Day 2014 saw local participants combing local roads for a winter's worth of trash as well as climbing down into ditches to get to the hard-to-reach beer cans and bottles.
Wherever one looked or drove on Green Up day, May 3, there were people with the bright green trash bags, mud boots and a look of determination on their faces. There were couples and families and there were organized groups of Boy Scouts and Cub Scouts. There were neighborhood groups and there was even a large group of Cabot employees who took time to green up their new neighborhood and beyond.
Reports from individual towns indicate that this year's trash haul was slightly higher than in years past. Fayston reports that 80 green trash bags plus 8 tires and a mattress and box spring were collected. Warren reported 90 bags of trash, 2 chairs and 10 tires.
In Moretown, the number of tires exceeded the bags of trash – 76 tires were collected and 75 bags of trash. In Duxbury, where the collected garbage was brought to the dumpster at the town offices, a 30-yard dumpster was filled to overflowing, according to road foreman Adam McGee who said they suspected someone used Green Up Day to get rid of construction debris from a remodel project because they found a countertop, sheetrock and a shower stall.
Waitsfield reported 106 bags of trash and 7 tires collected.
{loadnavigation}