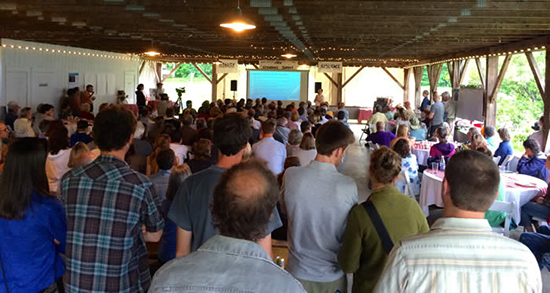 By Rachel Goff
"If you want to get people to a public meeting, feed them and feed them well," Noelle MacKay said.
MacKay, who serves as commissioner of the Vermont Department of Housing and Community Development, acted as moderator for the Mad River Valley Economic Summit and Community Picnic that took place Wednesday, June 4, at Lareau Farm in Waitsfield.
Over 250 people came out for the event, which was organized by the Mad River Valley Planning District (MRVPD) and made possible in large part by its director, Joshua Schwartz, and many local businesses that donated food and services, including American Flatbread owner George Schenck, who proposed the idea for a feast and provided the venue.
The MRVPD was formed in the 1980s by the towns of Waitsfield, Warren and Fayston. Back then, according to MRVPD chair Bob Ackland, "the purpose of the planning district was sort of to oversee Sugarbush's development," he said. "Now, that's really not a necessity," Ackland said, explaining that the MRVPD is accomplishing its goals of conservation and land planning. The economy, however, "is something that we really haven't looked at in The Valley in a long, long time," Ackland said.
And so, after attendees snagged slices of pizza and beer, they gathered to hear presentations of quantitative and qualitative data from two recent economic analyses of the area: the Mad River Valley Economic Report and the Warren and Waitsfield Vermont Downtown Action Team (V-DAT) Reports, both of which were funded by state agencies.
WHAT'S CHANGED?
"We used to milk the cows and now we milk the tourists," former Warren Select Board member and dairy farmer Rupert Blair used to say, explaining how The Valley's economy has evolved in the past decade. Juli Beth Hinds of Birchline Planning LLC recalled the longtime Warren resident's adage during a presentation of local business sectors, only she updated it to fit more recent trends.
"Now, we should say we used to milk the cows, and now we milk the cows and sheep and make that into cheese and sell that to tourists and to each other," Hinds said. In other words, The Valley's economy has "gotten more complicated," she explained.
WHO LIVES HERE?
According to Doug Kennedy of Doug Kennedy Advisors, in 2001 Waitsfield, Warren and Fayston saw a net population growth of 60 people. "More than half of that was people moving to The Valley," he said, as opposed to natural births and deaths.
The number of people moving to The Valley has decreased slightly in recent years, Kennedy said, but overall 40 percent of net population growth is due to migration rather than natural births and deaths. For the state of Vermont, only 15 percent of population growth comes from migration, "which says The Valley is a place where people want to move," Kennedy said.
Specifically, The Valley is attracting families with children, Kennedy said, explaining that migration rates are positive for residents between zero and 20 years old and for residents between 30 and 45 years old. However, "once kids finish high school and reach college age they're moving out of the area," Kennedy said, creating negative migration rates for residents between 20 and 30 years old, which is "a reality in many, many Vermont towns," he said.
Compared to other Vermont towns, however, "housing is more expensive in The Valley," Kennedy said, reporting that 26 percent of households in Waitsfield, Warren and Fayston are paying more than $2,000 a month for housing, as opposed to 14 percent of households statewide.
Hinds followed Kennedy by explaining that The Valley is in a "housing hangover," as 49 percent of housing in the area was constructed in the 1960s and 1970s, and most of it was ski condos. For families with children, "there's a fairly small percentage of historic homes," she said, so while there's a lot of housing in the area, "is it matched to what people need?" she asked.
WHO WORKS HERE?
According to Kennedy, 42 percent of households in The Valley earn more than $75,000 a year, as opposed to 33 percent of households statewide. Of The Valley's total household income, 13 percent comes from self-employment, compared to 7 percent statewide.
But even with such high self-employment rates, in 2011 only 507 people in Waitsfield, Warren and Fayston both lived and worked in The Valley, compared to 1,880 people who lived in The Valley and worked outside of it and 2,155 people who lived outside of The Valley and worked in it.
The leisure and hospitality industry continues to employ the most people in The Valley, but the industry is subject to seasonal economic fluctuations, Kennedy said. Based on tax receipts, the area "has much more substantial peaks in February and again in December and much more substantial valleys—pardon the pun—in April and in May," he said. But still, Waitsfield, Warren and Fayston's economies are "less seasonal" than other ski towns such as Dover and Ludlow, Kennedy said.
WHO VISITS HERE?
This past year, the Vermont Downtown Action Team (V-DAT) conducted two retail outlet surveys during the first week in October (Columbus Day) and the second week of January.
In the first week of October, V-DAT reported 1,202 customer visits from eight foreign countries, 37 U.S. states and 685 U.S. zip codes. "That puts you in the top probably 5 percent of communities across the country as far as the variation of people coming through," Tripp Muldrow of Arnett Muldrow & Associates reported.
For all that variation, however, "one in every four customers comes from Waitsfield," Muldrow said, and another 13 percent comes from Warren. "They are by far the most loyal customers," Muldrow said, explaining that "even though [The Valley] is highly retail-dependent, the locals are still very much participating in the retail trade."
According to Hinds, local participation is an important factor to consider when thinking about the future of The Valley's "interrelated" economy, for which she identified four critical sectors: agriculture/food systems, recreation/tourism, manufacturing/incubation and professional services.
In The Valley, new businesses are starting every year and of the new businesses that have started in Waitsfield, Warren and Fayston, "very few high-profile ones have left," Hinds said.
Many local businesses—like farming—are "very well-aligned with the character of The Valley," Hinds said, but it's important to remember that many industries—again, like farming—are evolving in their methods and markets and that The Valley will have to acknowledge that.
WHAT DO PEOPLE THINK?
At the end of the presentations, residents had the opportunity to share their assessments of The Valley's current economy and working as well as their hopes for its future. Scattered throughout the room were posters with questions like "Which types of manufacturing businesses are best aligned with the Mad River Valley?" Below the different sectors were listed, each with a spectrum from least aligned to most aligned on which summit attendees could place a sticker marking how they felt.
The sticker-placing process prompted conversations among residents about the viability of products such as software to The Valley and provided the MRVPD with even more community input for its economic study, which will be a focus of the planning district over the next few years. A similar—though less visual—survey is also available online at the MRVPD's website (mrvpd.org) as is a video and more information from the summit.
{loadnavigation}