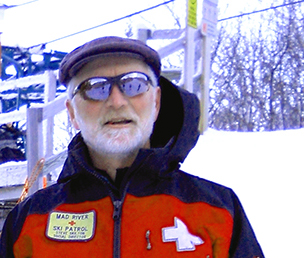 Tuesday, June 17, was Steve Skilton's last day at Harwood Union High School where he has served as an industrial arts teacher and coach for the past 35 years.
"Skilt," "Skillsaw," as he is sometimes called by his student/athletes, has been a mainstay on both the Harwood and Vermont athletic fronts.
He started his teaching and coaching career at Harwood as an assistant with the varsity ski team in 1979. After the retirement of Bob Huss, in the early 1980s, Skilton became the high school varsity coach. Skiing was not as specialized as it is today. Members of the team were encouraged to participate in all three ski disciplines: alpine, Nordic and jumping. In order to facilitate the skill development of his skiers, he constructed a ski hill on the Harwood property. "Skiltop" or "Mt. Skillington," as his athletes affectionately called it, had a rope tow powered from a VW engine. It enabled Harwood skiers to train in their own backyard. This training advantage led to immediate success for Harwood skiers. In 1984, the Harwood girls' alpine team placed second in the Vermont State Alpine Championships. Harwood boys followed as state runners-up in 1987. Skilton's alpine teams gathered five more runners-up titles and Harwood boys won the state championship in 2002.
Winning a state title in any sport is no easy task, but it is especially difficult in alpine skiing where schools are not divided into multiple divisions based on school population. Harwood was one of the smaller schools in the state competing in alpine skiing. However, Skilton's teams would always be in the mix for the Vermont State Alpine Championships. The competitive skills of Harwood skiers and Skilton's leadership and motivational skills as a ski coach have been recognized by his peers. In 1989, Skilton was elected the president of the Vermont High School Ski Coaches Association. He was re-elected 25 years in a row. He announced his retirement from the Vermont Ski Coaches Association this past March.
In 1983, Skilton started the Harwood tennis team. His team had immediate success. Harwood boys won the Vermont state championship in 1984. Skilton started the Harwood girls' team in 1994. He coached both the boys' and girls' teams for two decades. He was selected among his fellow coaches to represent them. He also served as a member of the Vermont Principals' Association tennis committee for over 10 years.
In addition to his dedication to Harwood sports, Skilton served as a soccer official for over 30 years and has officiated eight state final soccer games. He was elected president of the Vermont Soccer Association and was awarded the Dick Stewart Award for Outstanding Officiating.
"Steve Skilton is one of a dying breed, teachers that coach. In the '70s it was very common to have teachers follow their students out of the classroom out to the athletic venues for another two hours of specialized instruction. Extra demands placed on teachers by administrators have made it extremely difficult for teachers to coach. Steve has managed to balance his teaching with a very successful coaching career for over three decades. He also has been a father and coach to two great kids, Tanner and Anna. This past winter, Skilton completed his 57th season as a Harwood coach. Steve has been a dedicated teacher, coach and father. His fellow coaches have recognized him as their leader. In addition, Steve has been a mentor for many successful students and athletes," said fellow teacher and coach John Kerrigan.
"Steve provides quiet confidence to his athletes. He is not one to shout out instructions. His management style is based on knowing each of his athletes personally. He has helped them reach their goals by providing individual attention and providing extra opportunities," Kerrigan added.
"In the winter of 2011, while on the ski patrol at Mad River Glen, Skilton attempted to rescue an injured skier. The rescue attempt took a devastating turn of events, resulting in Skilton being transported to Dartmouth Hitchcock with life-threatening injuries. His strong pursuit of caring for individuals almost cost him his life. He made a complete recovery and coached the alpine team to another great season the following winter," Kerrigan recalled.
At Harwood, Skilton has taught industrial skills to Harwood students for 35 years.
"You have probably heard the expression that every person is replaceable. This may not be true of Steve Skilton. With his departure Harwood will be sunsetting the traditional woodshop and metal classes. Many former students that are now professional welders, carpenters, plumbers and electricians learned basic skills through Steve or other teachers in the Harwood shop classes. Mr. Skilton is the last of a long line of traditional shop teachers; Fred Collins, Dom Zack and Ed O'Brien have long since retired. With Steve's retirement the Harwood administration has opted to teach STEM (Science Technology Engineering and Math) classes rather than the traditional skills of metal and woodworking. The traditions and skills taught by Steve will not be replaced. His sense of humor and quick wit and keen insight to challenging problems will no longer be enjoyed by other members of the faculty," Kerrigan said.
"Harwood is saying goodbye to an awesome teacher, coach and mentor for others. Steve has given his all for Harwood students, has been a leader among leaders and a supportive professional to our faculty," he added.
{loadnavigation}