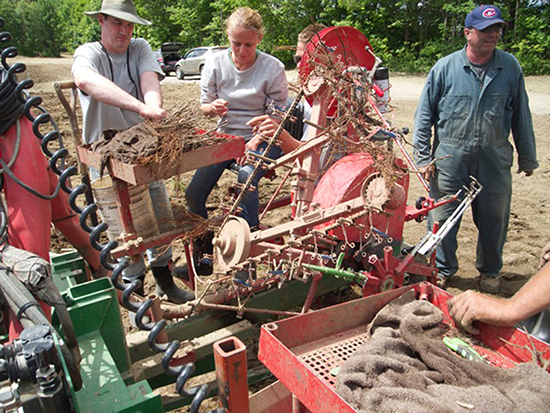 By Lisa Loomis
Six thousand grapevines were planted last week on what will be Warren's first vineyard, Wicked Vineyards.
The land is a 50-acre parcel located immediately south of Wadham's Stables. It has been hayed by the DeFreests and was permitted for three house sites. It was purchased by Andrew and Tami Fegley and Joe and Dorothy Foley. The two families are from New Jersey and the Foleys are experienced basement vintners.
The two couples, with the help of Joe Klimek who has his own much smaller vineyard on the Waitsfield end of East Warren Road, formed a conga line in the fields last Friday through Sunday working with a laser planter that came from the Finger Lakes region of New York.
MOBILE LASER PLANTER
"We hired a mobile laser planter, the only one in the country, to do the work. The guy who came had planted more than 140,000 vines so far this year. The planter allows you to create a very concise, precise 90-degree angle for every plant. It plants every vine the same distance from each other and the same depth into the land. When the plants are growing it is going to be an incredibly symmetrical vineyard," explained Andrew Fegley.
They planted 6,000 plants last week and will plant another 100 vines later this summer. They planted three red and three white varietals. All the plants are cold hardy to Vermont. The plants will not produce grapes until the third year.
"Our aspiration is to grow a great grape and ultimately establish a winery on the property. We have saved 15 acres on the front of the property to build an establishment with a pond and seating area," Fegley added.
CALL KLIMEK
The two couples are close family friends, and both live in New Jersey not far from Philadelphia. Both have plans to build a home on the western edge of the parcel they have purchased. The Fegleys have a home on Senor Road and were staying there with the Foleys one night when the idea occurred to them to call Klimek, whose vineyard they'd admired as they passed it, to see whether a parcel of land they'd come across would work for a vineyard.
"After we talked to Joe, things rolled from there. His enthusiasm and expertise were critical. He is functioning as our general contractor," Fegley said.
Both families are skiers and have three children each. The families are close friends and so six or seven years ago when the Fegleys were introduced to The Valley, it wasn't long before the Foleys were too. The Fegleys stayed at the home of a friend on East Warren Road the first time and within two weeks were talking to a realtor about the home they very quickly bought on Senor Road.
BASEMENT WINEMAKERS
The Foleys have been making wine in their basement since 2009. They buy juice from California and make wine in milk barrels and stainless-steel tanks.
"It started out as a social thing, a way to get people together. It was a lot of fun and it turned into a little bit more than that," Joe Foley said.
TURNS OUT PRETTY GOOD
They make about 150 gallons a year, give or take, he said. Each barrel makes 52 gallons of wine and the stainless-steel tanks make 40 gallons of wine. They get friends and family members together to bottle with a three-bottle filler and hand cork the bottles.
"It's a lot of fun and the wine ends up turning out pretty good," Foley said.
Joe Foley works in finances for a claims processing company and his wife Dorothy is home with their children, Joseph, who is attending UVM next year, Patrick, a high school junior, and Annie, a high school sophomore.
The Fegleys' children are Connor, who is almost 16, Aidan, 12, and Mara, who will be 8 in August. Tami Fegley is a teacher and Andrew Fegly is an entrepreneur in digital technology who now consults for Empathy Labs, a company that he cofounded and sold.
Both families will run their vineyard from here and New Jersey.
{loadnavigation}