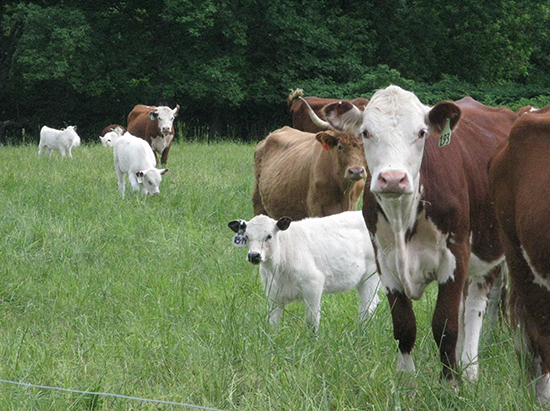 By Rachel Goff
Heading north from Waitsfield Village, drivers may have noticed a peculiarity among Kenyon Farm's cattle: All of the calves are white.
According to the Route 100 farm's owners, the monotone colors are no coincidence, as the cows they bred this year belong to a distinct and uncommon breed, British white park. Today, British white park cattle are known for their hardiness and high-quality meat, as the breed withstood centuries of human conflict and natural selection before coming to the United States in the mid-1900s.
According to the American British White Park Association, the cows were kept as sacrificial animals during the Roman Legion's occupation of England until around A.D. 400 when the region was overrun with warfare and the animals escaped into the woods, where they lived wild for hundreds of years.
During this time, "basic qualities of hardiness, livability, disease resistance, fertility and feed efficiency enabled a part of each generation to survive and reproduce," the American British White Park Association said, so that "the cattle that survived in each generation were superior." When England was conquered by the Normans in the early 1000s, white park cattle continued living with minimal human intervention in game parks, allowing natural selection to further pare down the breed in the centuries that followed.
In 1940, when England feared invasion by the Nazis, they sent one bull and five British white park cows to the United States as seed stock. After World War II, the animals were sold to the public.
In the 1967s, the American British White Park Association was formed to promote the breed, which maintains a small but loyal following. Today, Kenyon's Farm is the only member of the American British White Park Association in Vermont and one of only two members in New England.
{loadnavigation}