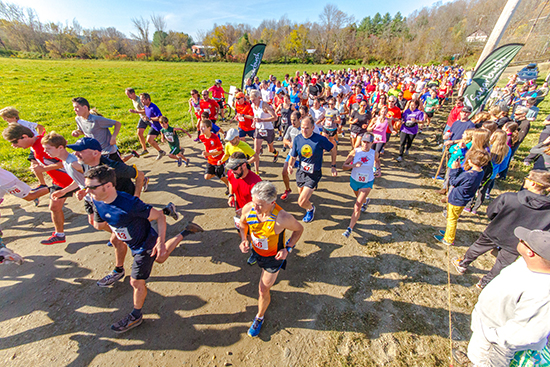 The 19th annual Sugarbush Mad Dash is set for Sunday, October 12, at 10 a.m. The low-key running and community fitness event includes 5k and 10k running races, a 5k fitness walk and the Blue Cross Blue Shield of Vermont Kids Fun Run.
The Dash takes place amid the scenic backdrop of the Mad River Valley. The 5k and 10k courses begin and end on Meadow Road in Waitsfield. Runners will follow a quintessentially Vermont course, along North Road across the Pine Brook covered bridge through farm fields, with views of the Mad River, Lincoln Peak, Camel's Hump and the other mountains and hills which surround The Valley.
Registration for the Dash includes food, refreshments and a commemorative T-shirt for all participants.
Registration is available at the following locations: General Wait House, 9 a.m. to 5 p.m. weekdays; Waitsfield Farmers' Market; and at the event, from 8:30 to 9:30 a.m. The Kids Fun Run is free and registration is available at the event on race day.
The Dash is an annual community fitness event and benefit for Mad River Path Association. The path association is a member-supported nonprofit organization whose vision is for a network of public paths throughout the Mad River Valley in order to foster healthy community and connecting the people, businesses and special places of the Mad River Valley. To learn more about the Dash, the path or the path association, visit www.madriverpath.com.
This year's Dash is sponsored by Friends of the Mad River and Elevation Physical Therapy.
{loadnavigation}