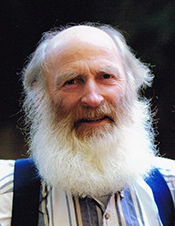 Barry King Simpson, age 75, of Warren, Vermont, died at home with family by his side on Tuesday, April 4, 2017.
Barry was born in Springfield, Massachusetts, on June 27, 1941. He graduated with a BA from Wesleyan University which led on to a master's in architecture from Yale University. A robust outdoorsman, he began exploring northern New England for recreational pursuits during his early adult years. Barry's ancestors originally settled around Craftsbury and he quickly fell in love with Vermont and dreamed of a self-reliant, sustainable and collaborative lifestyle in the Mad River Valley.
Upon graduation, Barry and several of his fellow Yale art and architectural students who sought a simpler, more personally fulfilling life came to East Warren and led the "design/build movement" of the 1960s and '70s, completing projects around the Mad River Valley and all over the Northeast. One of Barry's most cherished designs was that of his own minimalist home on Prickly Mountain, dubbed "The Silver Bullet," an 8-by-10-foot mobile unit which he shared with his dog and later his wife and family where they frequently entertained family and friends in what was a true precursor of today's "tiny house movement."
Barry's working life largely centered on the Bobbin Mill in Warren, which Barry purchased as part of a partnership in 1970 after it ceased operation as a wood-turning mill. By 1974, the Bobbin Mill was well on its way to becoming an incubator facility for young entrepreneurs engaging in a variety of startup businesses, similar to the modern day "makerspace." This included Barry's business, Dirt Road Company, which began as a partnership with Charlie Hosford of Waitsfield. Barry was truly in his element as a designer/inventor in this partnership and over the next three decades he engaged in the design and manufacturing of a variety of wooden products including insulating Comfort Shades, accessories and components of Mad River Canoes, Discovery Map racks, several styles of folding and ready-to-assemble furniture and an extensive line of heirloom wooden rocking toys.
In 1975, Barry was teaching young children to ice skate at the Brooks field ice rink which he and other volunteers had built together as a community project. It was there that he met Claire Walker who was visiting from New Zealand. After a memorable courtship, Barry and Claire were married on August 20, 1977, on their property at Prickly Mountain. After they were married, Barry and Claire began to landscape the property to make it suitable for lifestyle farming and gardening where they have grown and raised much of their own food for the last four decades.
Barry's dedication to public service was second only to his devotion to his wife and children. Soon after he settled in Warren, he volunteered for the Warren Fire Department, the Mad River Valley Ambulance Service and as a Cub Scout leader. He served the town of Warren for a continuous period of 37 years, first as a planning commissioner for 20 years, followed by seven years on the select board, both of which he chaired for multiple terms. At the time of his death, Barry was entering his 10th year serving as the director of public works and road commissioner. Among his peers, he was known for encyclopedic knowledge of town history and governance, the strength of his integrity and his wonderful sly sense of humor that brought smiles and laughter to the often dry topics of roads, culverts and zoning details. Barry consistently led by example and was admired as a great mentor to those he recruited to town government.
Among his friends and family, Barry is perhaps best known for his quietly observant, contemplative and humble nature, his patient manner of teaching and skill-sharing and the depth of compassion and humanity he showed to every person he encountered. In contrast to his quiet nature, Barry also had a penchant for theatrics and entertaining. For decades he created the most elaborate family Halloween costumes, led 40-plus people in Christmas caroling at an annual party he and Claire hosted, and he was a stalwart of the Prickly Mountain parade floats and Birch Island skits. He was a great storyteller and not infrequently had people in stitches with his stories and physical comedy.
Barry is loved and mourned by his wife, Claire; daughter, Katya of Mt Shasta, CA; daughter, Sarah and her husband Andrew Spencer of Warren; two brothers, Richard and Donald Simpson of Washington, DC, and Colorado Springs, CO; and all of his extended family. Barry was predeceased by a son, Cameron, on March 21, 1983.
According to Barry's wish, services will be held privately at the Simpson family camp on Birch Island, Lake Winnipesaukee. For those who wish to commemorate Barry, a donation may be made in his name to the Harwood Union Track & Field Program and sent to Harwood Union High School, Attn: Wendy Gilbert, 458 VT Route 100, South Duxbury, VT 05660.