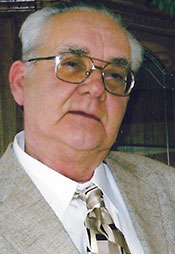 Elwin L. Jones, 79, passed away peacefully at Gifford Medical Center in Randolph on Wednesday evening, June 27, 2018. Born in Waitsfield on March 10, 1939, he was the son of the late Elden and Sharlene (Leno) Jones. On October 21, 1961, he married the former Sandra Jean Grandfield in Moretown. Sandra predeceased Elwin on August 20, 1997.
While attending Waitsfield High School, Elwin worked on area Mad River Valley dairy farms and continued this work following graduation. Elwin tried to enter the service but was turned down due to a heart issue. Offered the opportunity to work for Fred Armstrong, Elwin was happy and busy for several years employed as a heavy equipment operator and then followed his own entrepreneurship by founding his own business, E.L. Jones Excavating. One of the many projects he worked on included doing earthwork constructing Harwood Union High School as well as building the family home in Waitsfield.
After only being in business for a few years, Elwin was diagnosed with retinitis pigmentosa, a rare genetic disorder that eventually leads to blindness. Undeterred, Elwin accepted this challenge and continued with his business until unable run the equipment. He went on to accomplish some remarkable things that included operating a cattle and pig business, breeding and raising livestock to sell back to local farmers for over 10 years. Selling the business and settling in Berlin, in spite of being blind, he designed and finished building his own home in Berlin and was an accomplished woodworker, creating intricate finished products all by touch. For the past 19 years, he has been blessed by Reta Hebert with love, companionship and the same passion for dance that Elwin had.
Elwin was a founder and member of the Mad River Valley Lions Club. A member of the Montpelier Lions Club and was a member of the Barre Loyal Order of the Moose. In his leisure time he enjoyed camping, woodworking, listening to country and western music, dancing, listening to NASCAR on TV, going out to dinner, and spending time with his family and extended family as well as with his many friends.
Elwin is loved and mourned by his angel, Reta Hebert; his children, Rodney Jones and his fiancée Susan Idol, Karen Smith and her husband Scott; three grandchildren, Whitney Mann, Derrick Mann, Caleb Jones; two great-grandchildren, Cayleigh Dunster and Lincoln Mann; three sisters, Emogene Bancroft, Gaenol Mobus and her husband Allen, Deirdre Anderson; a sister in-law Delphine Jones; and two brothers, Everett Graves and his wife Brenda, and Maurice Graves and his wife Sharon. Elwin is mourned by brother and sister in-laws Joan Grenier and her husband Roger, Marilyn Cameron, Barbara Grandfield, and Eugene Grandfield; as well as nieces, nephews and extended family. Elwin was predeceased by a sister, Nelda Tyndall, and a brother, Robert Jones.
A celebration of Elwin's life will be held from Waitsfield United Church of Christ on Saturday, July 7, 2018, at 11 a.m. with a reception to follow in the church dining room. For those who wish, memorial gifts would be appreciated to Vermont Association for the Blind and Visually Impaired (www.vabvi.org). Assisting the family is Perkins-Parker Funeral Home and Cremation Service in Waterbury. To send online condolences please visit www.perkinsparker.com.