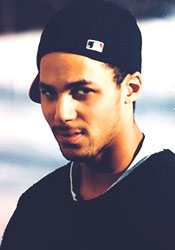 Solomon William Leroy Foster, age 41, passed away unexpectedly on Thursday, July 26, 2018, at the University of Vermont Medical Center in Burlington, Vermont. He was born on October 22, 1976, in Santa Clara, California, to Bess Irmgard Bates and Ronald Dean Foster. In addition to Santa Clara, Solomon lived in many different states but spent most of his life in Waitsfield, Montpelier, and Burlington, Vermont.
Solomon is survived by his only son, Ason William Leroy Foster, age 9, who resides in Montpelier with his mother, Ashley Marie Roy. He is also survived by his brothers, Mkali Ronald Dean Foster, Changa Howard John Foster and Dakota Edmund Burr; as well as his father, Ronald Dean Foster; and many loving friends and family members throughout the country.
Solomon had a passion for rock and roll and would often be known for playing his electric guitar. He loved fishing, hunting and camping with his son. The loss of Solomon so early in his life was an unimaginable tragedy. We are all so fortunate to have known him for his short time on this Earth and will never forget the sound of his laugh.
Solomon, may you rest in peace.
A service will be held at South Fayston Cemetery at 2 p.m. on Sunday, August 19, 2018. A potluck celebration to follow will be at the Big Picture Cafe in Waitsfield, Vermont.
Those who would like to contribute a donation to the family for ceremony expenses, please find the "In Loving Memory of Solomon Foster" campaign by visiting www.GoFundMe.com.