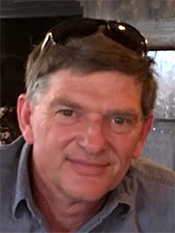 Scott Henry Slager, 60, passed away peacefully on Friday, October 26, 2018, at home with his wife and sister by his side. Scott was born in Rochester, NY, on September 3, 1958, to Sally Ray (Scamp) and Robert Allen Slager. Scott married Amy Herrick MacDonald on August 21, 1993, in Manchester, Vermont.
Scott is a graduate of Naples High School in New York. He began working at Bristol Mountain as a teen, which led to his career as a ski lift mechanic and welder. He also worked at Mountain High in California, Bromley Mountain in southern Vermont, and he retired from Sugarbush Resort, Warren, VT, in February 2018.
Scott was a lifelong skier and loved being out in nature in all sorts of weather. His job enabled him to experience sunrises, beautiful views and special moments with wildlife. Scott also loved bowling, camping, golf, horse racing, football, soccer and spending Friday nights with his poker buddies.
Scott is survived by Amy, his wife of 25 years, and his beloved little sister, Lisa Slager Ross (Eric) of Naples, NY. Scott enjoyed watching his nieces and nephews grow and took great pride in their accomplishments: Jaynah Ross Mendoza of NYC, Grayden Ross of Naples, NY, Kileen Deets Adler of Danby, VT, Caitlin Parker of Dorset, VT, Sarah Parker of Dorset, VT, and Hannah Parker of Dorset, VT. Scott was predeceased by his nephew, George Henry Deets IV. Scott is also survived by his cat, Lucy, and dog, Bing.
A memorial service will be held for Scott at First Congregational Church, 3624 Main Street, Manchester, VT, on Saturday, November 17, 2018, at 2 p.m. Donations in Scott's memory may be made to the Mad River Community Fund, P.O. Box 353, Waitsfield, VT 05673, or Old Friends Equine (for retired thoroughbreds), Cabin Creek Farm, 483 Sandhill Road, Greenfield Center, NY 12833. People may also honor Scott's memory by rooting for the Buffalo Bills. Assisting the family is Perkins-Parker Funeral Home and Cremation Service in Waterbury. To send online condolences visit www.perkinsparker.com.