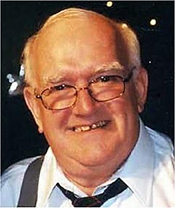 Robert Frederick Costey, 80, passed away peacefully on February 15, 2019, surrounded by family at Manatee Memorial Hospital, Bradenton, Florida. Costey lived in Waterbury for nearly 40 years before his retirement to Ellenton, Florida.
Fred was born in Lynnfield, Massachusetts. He enjoyed playing football for Saugus High School and trumpet in the school's marching band.
He enlisted in the U.S. Army and served as a Green Beret with the 11th Special Forces group in Boston, Massachusetts, 1961-1965, before completing his military service. He married Carol Ann Bolduc of Melrose, Massachusetts, in 1959.
A tool and die maker by profession, he accepted a job with IBM in the 1960s and moved his wife and family from Massachusetts to Vermont. Fred and Carol raised their five children in Waterbury.
Fred enjoyed cooking, listening to music, square foot gardening and watching football, particularly when his favorite Patriots were playing. For many years in Vermont, he fished for trout in the brook behind his home, spent time deer hunting in the local woods and enjoyed riding his motorcycle on winding roads.
Fred and Carol shared a passion for cooking, which led them to live their dream of becoming small business owners. Together they operated Fred's Place - Pizza & Subs restaurant of Waterbury for 15 devoted years. In addition to bringing joy to people with their meatball subs and more, Fred's Place sponsored a softball team in the Waterbury Men's Softball League for a number of years.
After more than 30 years of marriage to Carol, Fred became a widower. As difficult as that was for him, he felt fortunate to find a wonderful woman named Donna Robb. They left the snow and ice of Vermont to embrace retirement in Florida. Fred and Donna exchanged vows on a beach in Long Boat Key, Florida, surrounded by family. They shared 20 years together.
Fred enjoyed cooking for Donna, the beach, taking their dog Gracie to Doggie Island in the golf cart, and Sudoku puzzles. Fred appreciated the kindness of friends and family throughout his life. He and Donna welcomed many visitors at their home in Florida over the years.
Fred leaves behind his wife, Donna, and his beloved brother, Raymond Costey. He is survived by his children, Rachel Costey Stringer and husband Steven, Colchester, Carleen Costey, Seattle, WA, Darryl Costey, Colchester, Robert Fred Costey Jr., Middlesex, Richard Costey and wife Katherine Alverson, Los Angeles, CA, and Jessica Robb and partner Jeffery Brown, Lebanon, NH. He is survived by his grandchildren, Heather and husband Joe Buzckowski, Alexander Darr, Jenna Lorenzini and partner Jonathan Jackson, Jesse Lorenzini, Simone Costey, Michael Stringer, Kim and husband Jesse Treier; also precious great-grandchildren, Lincoln, Merlin, Piper and Rockwell Buzckowski, Sophia Brown and Ronan Treier.
There will be a celebration of Fred Costey's life on Saturday, June 22, 2019, at the Waterbury Fish and Game Club in Waterbury Center, VT, at 1 p.m. Inurnment will be at Hope Cemetery in Waterbury.