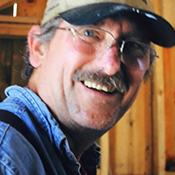 Garth K. Warren, 68, passed away in the comfort of his home and family on Thursday evening, April 25, 2019. Born in Burlington on February 15, 1951, he was the son of the late Rodney and Rebecca (Kennedy) Warren.
Garth attended Harwood Union High School in Duxbury. As a young man he followed in his father's footsteps, working side by side with him in the family enterprise, R.E. Warren Electric. Following his father's passing, Garth went to work for Everett and Kathryn Palmer of Waitsfield in their maple sugaring operation where he learned both the process and his love for the business.
Throughout his life, Garth stayed busy working for several companies that included Bolton Valley Resort where he became maintenance supervisor, JA McDonald Construction building Vermont National Country Club in So. Burlington (his proudest moment was meeting Jack Nicklaus there), Conti Appliance doing deliveries and appliance repair and as a machine operator for Green Mountain Coffee Roasters. Throughout full-time employment, Garth founded what started as a hobby of maple sugaring that became a business, Garth Warren Maple. His favorite times were spent with his brother, Gyles, and good friend, Steve Grace, on bucket detail while Garth tended to the fine art of boiling.
His memberships included the Vermont Maple Sugar Makers Association, Blush Hill Country Club, Waterbury Congregational Church and the Sons of the American Legion in Waterbury. In his leisure time he enjoyed hunting, fishing, golf, watching on television the Golf Channel, westerns and loving the rise and fall and rise again of the Boston Red Sox. He also enjoyed riding the back roads of the area where he could tell the history of most properties.
Garth is loved and mourned by his children, Felicia Potts-Warren and her fiance Sam LaClair of Moretown, Starr Potts-Warren and her daughter Lilliana Goslant of Waterbury, and Lukas Potts-Warren of Waterbury Center; his brothers, Gyles Warren and his wife Bev of Berlin and Kevin Warren and his wife Linda of Waterbury; his good friend and cousin, Larry Nelson of Waterbury Center; his feline best friend, Daisy; as well as extended family. Garth was predeceased by his sister, Sheila.
Friends are invited to a memorial reception honoring the life of Garth Warren on May 8, 2019, from 11 a.m. to 1 p.m. at the Waterbury Congregational Church dining room. Private inurnment will take place in Hope Cemetery, Waterbury. It was his request that in lieu of flowers, memorial gifts be considered to Central Vermont Home Health and Hospice, 600 Granger Road, Barre, VT 05641 (www.cvhhh.org). Garth greatly appreciated the special care and compassion he received from his nurse, Courtney Cadreau, as well as his caregivers, his children, his future son-in-law Sam, brother Gyles and cousin Larry Nelson.
Assisting the family is Perkins-Parker Funeral Home and Cremation Service in Waterbury. To send online condolences visit www.perkinsparker.com.