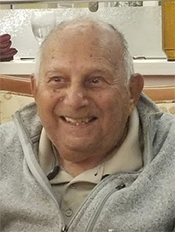 On Wednesday, May 1, 2019, Harry Schwartz, 94, loving husband and father of three children, passed away peacefully at the Hospice Care Center of Palm Harbor, Florida.
Harry was born on February 12, 1925, in Rochester, NY, to Charles and Anna (Katz) Schwartz. He grew up in the Bronx making his own toys and chasing after the horse and buggies that ran up and down the streets. He served in the U.S. Navy as a carpenter during World War II and got married on June 26, 1954, to his loving wife, Susie. Together they raised two sons, Howard and Jesse, and one daughter, Eileen.
He was a master carpenter and the first real MacGyver! Any project he took on was a masterpiece from repairing a tire with sticks and shoelaces that lasted more than 200 miles to restoring an old baby grand piano to designing and building his own furniture. He owned his own business as a hammered stone setter (jeweler) in the diamond district in NYC.
Harry worked hard and played harder – owning his own airplane and traveling all over the United States, Canada, Alaska and Mexico. After Harry retired in 1988, he moved to Warren, Vermont, Sugarbush ski area. He had a passion for flying, tennis, skiing, photography and woodworking. He was known for his quick wit, his infectious smile, his kind and generous spirit and his killer shots on the tennis court.
Harry was preceded in death by his father, Charles; his mother, Anna; and his two sisters, Jean and Pearl. He is survived by his wife, Susie, his three children, seven grandchildren, 10 great-grandchildren, one great-great-grandchild, several cousins, nieces and nephews.
Per Harry's wishes there will be no memorial service but a small gathering of family and friends in Florida to celebrate his life on May 26. In lieu of flowers or memorial gifts, remember the good times you shared with him and do a good deed in his name.