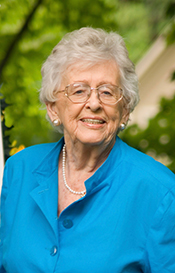 Rebecca E. Peatman, 87, a lifelong resident of the Mad River Valley, passed away in the comfort of her home and family on Thursday evening, June 27, 2019. Born in East Warren on January 12, 1932, she was the daughter of the late William C. and Ruth (Dowdell) Elliott. On January 15, 1949, she married William R. Peatman Sr. in Worcester. Bill, her husband of 60 years, predeceased Rebecca on April 15, 2008.
Rebecca was a graduate of Waitsfield High School and then went on to become a vital public servant, community member, volunteer and virtual institution in Warren. Throughout her many years of dedication to the town, she served as an auditor, delinquent tax collector and library commissioner. Additionally, she was a justice of the peace for 36 years, Warren town treasurer for 12 years, and served on the board of directors for the Mad River Valley Health Center and Central Vermont Home Health and Hospice where she also volunteered. Rebecca also served as chairperson for the Warren PTA, was a longtime and active member of Warren United Church and was a dispatcher for the Mad River Valley Ambulance Service for 36 years. Not one to be idle, Rebecca was for many years the manager of the Gate House and a cashier at the Valley House, both at Sugarbush ski area. In her personal time, she very much enjoyed knitting, sewing, flower gardening and the company of her large and loving family.
Rebecca is survived by her children, Bonnie Banks and her husband Jim of Charleston, SC, Kym Newbold and her husband Larry of Spring Hill, FL, William R. Peatman Jr. and Bernard Peatman, both of Warren; nine grandchildren and 10 great-grandchildren; as well as extended family. Rebecca was predeceased by two daughters, Elizabeth Ann Peatman and Kathy Lee Peatman; as well as a brother, Edwin Elliott.
A service to celebrate Rebecca's life will be held at Warren United Church on Wednesday, July 3, 2019, at 11 a.m. with interment to follow in the Warren Village Cemetery. For those who wish, memorial gifts would be appreciated to Central Vermont Home Health and Hospice, 600 Granger Road, Barre, VT 05641 (www.cvhhh.org), or Mad River Valley Ambulance Service, P.O. Box 305, Waitsfield, VT 05673. Assisting the family is Perkins-Parker Funeral Home in Waterbury. To send online condolences, visit www.perkinsparker.com or the funeral home Facebook page.