D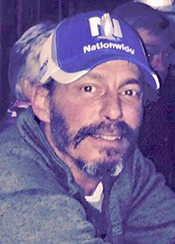 ean Paul Aylward, 54, passed away unexpectedly at his home in Barre City on Wednesday, September 11, 2019. Born in Barre on March 3, 1965, he was the son of Robert Aylward Sr. and the late Judith Wallace. Dean was previously married to the former Laina (Burnell) Aylward and Kimberly (Sicely) Aylward. Dean attended schools in Moretown, Barre, Waterbury, Harwood Union High School and BFA–St. Albans.
At a very young age Dean was known for his uncanny ability to fix anything and would often be called upon for his expert advice by family, friends and co-workers. Professionally Dean was a licensed electrical journeyman and for the past 15 years worked for Norway and Sons Electrical of Barre.
Dean loved everything about cars. He loved to fix them and especially loved to race them. In the 1980s he formed the Dangerous Dean Race Team at Thunder Road where he competed in the Street Stock division. Throughout his life he was passionate about racing, both locally and NASCAR. Dean was a talented baseball player, wrestler and a gifted boxer. When not working, you could find him tinkering and repairing cars in his garage, truly a labor of love.
Dean is survived by his father, Robert Aylward Sr. and father's wife Tammy of Highgate; his children, Aliza Ladd and her husband Michael of Boston, MA, Mariah Aylward of Pompano Beach, FL, and Devin Aylward of Boca Raton, FL; a stepdaughter, Danielle Dacres and her husband Justin of St. Albans; his siblings, Jerri Lamson and her husband Jim of Moretown, Robert Aylward Jr. and his wife Kimberly of Waterbury, and Scott Aylward and his wife Kimberly of Oklahoma City, OK; his former spouses, Laina Aylward of Warren and Kimberly Aylward of St. Albans; four step-grandchildren, Quinten, Cooper, Easton and Sawyer Dacres; as well as nieces, nephews and extended family.
Friends and family are invited to a memorial reception at the Waterbury American Legion, 16 Stowe Street, Waterbury, on Friday, September 20, 2019, from 2 to 4 p.m. For those who wish, memorial gifts would be appreciated to the University of Vermont Medical Cancer Center (www.uvmhealth.org/medcenter/Pages/Departments-and-Programs/Cancer-Center/Support-Cancer-Center.aspx) and click on Support UVM Cancer Center. Assisting the family is Perkins-Parker Funeral Home and Cremation Service in Waterbury. To send online condolences visit www.perkinsparker.com or the funeral home Facebook page.