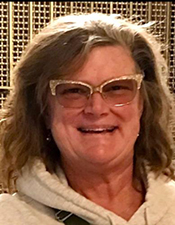 Deborah Anne Pitt Abad, RN, 58, of Groton Long Point, CT, and Warren, VT, passed into the "eternal bliss of the snowy mountains in heaven" January 17, 2020. Born in Hartford, CT, to Betsey and Walter Pitt, she grew up in Glastonbury, eldest of six children. She delivered the Courant, life-guarded at Orchard Hill and GLP, swam for GHS, and enjoyed young life as one of the many "active children" on Littel Acres Road.
She received an RN from Quinnipiac College and started her vocation at L+M Hospital, then the Navy Base nursery, Stonington Institute Rehab and Westerly Hospital. While on labor and delivery at Westerly, she was one of the first board-certified lactation consultants in the area. After her diagnosis she moved on to endoscopy, surgical and chemotherapy nursing in same-day surgery. She retired after 35 years from Westerly Hospital, having either delivered or cared for most residents in town.
Nature was her religion – a backyard ornithologist with a buffet of bird feeders and a keen ability to spot sleeping owls in trees at high speed while traveling to Vermont. Blueberry Lake and Alpine Village were her slice of heaven, having been a part-time resident since preschool. She was a member of the Mad River Glen co-op and loved skiing down the Periwinkle trail taking her own sweet time. Deb could identify all the types of snow: snowman snow, sparkle snow, floating flake on a full moon night snow, snowball snow (which is the same as snowman snow, but don't bring it up) and her favorite, snow angel snow. You would often find her swimming, fishing, paddle-boarding, kayaking, losing expensive eyewear and even snowshoeing across Blueberry Lake. At times, the territorial tail-slapping beavers tried to chase her away to no avail.
Her lifelong love of the Green Mountains was paralleled by her affinity for the beach – Venetian Beach at Groton Long Point specifically. Whether tanning and catching up on the endless flow of "stories" or floating on the top few inches of warm water "like Bamma and Poppa did," she always wore a serene smile full of contentedness and gratitude knowing full well that if you're lucky enough to live by the water, you are lucky enough. If you find sea glass, jingle shells or heart-shaped rocks, it's because she put them there for you to find together. Smile.
"You got your nice shades on, and the worst days are gone. So now the band plays on, you got one life, blaze on!"
Our Deborah Dumplin Darlin was predeceased by her father, Walt Pitt of CT and Warren, and survived by her mother, Betsey Pitt of Glastonbury; husband of 30 years, George Abad; four children, Aurora Abad, Violet Abad, Aristotle Abad and Titus Abad; sisters, Sarah Pitt and spouse Carlos Del Cristo, Jennifer Pitt, Cindy and Phil Black, Betsey Pitt and spouse James Quinnlan; brother, William Pitt Esq.; and 13 nieces and nephews, Brandon, Cameron, Pearson, Callie, Tessa, Colgan, Croix, Kiefer, Dexter, Jameson, Hudson, Helen and Parsons.
Celebration of Life to be held from 3 to 6 p.m. February 15, 2020, in the Clark Room at Groton Long Point Casino Bldg., 50 Beach Road, Groton. There will also be a celebration in Warren in the spring TBA.
Memorial donations may be made to the Friends of the Mad River at www.friendsofthemadriver.org.