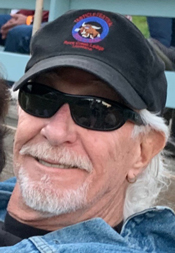 Donald Alter
September 17, 1938 – April 12, 2020
Our very dear friend, Don Alter, passed away at Birchwood Terrace Rehab and Healthcare in Burlington, VT, on Sunday, April 12, from complications created by the COVID-19 virus. He will be greatly missed by his family and large group of friends in the Mad River Valley.
Don was born to Marcia and Samuel Alter in Malden, Massachusetts, on September 17, 1938. He was in the ROTC program at Northeastern University and served in the U.S. military as a lieutenant in the Middle East. Don loved photography and worked as a photographers' representative in New York City in the 1970s before moving to the Mad River Valley where he found his forever home.
Don loved music, especially reggae and the blues. He was an integral part of a monthly gathering of musical friends where he played the blues harp. He also loved traveling to Jamaica, riding his Harley-Davidson on long road trips with friends, living in Vermont and all wildlife. Don always kept us laughing with his wonderful jokes and funny faces.
We'll probably miss the laughter most of all.
Don is survived by his younger brother, Gary; his two nieces, Anna and Rebecca Alter; and great niece and nephew, Tilda and Hugo Trindade.
We can't be together at this time to celebrate Don's life but hopefully soon.
Donations can be made in Don's name to the Central Vermont Humane Society or your local SPCA.