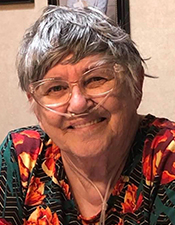 Ann Marie (Wallace) Carlyle, 76, of Duxbury, VT, passed away at her home on December 8, 2020m surrounded by her loving family.
Ann Marie was born December 15, 1943, in Montpelier, VT. She was the daughter of Dorothy L (Boardman) Carpenter, Jack J. Wallace and George Carpenter Sr. On December 22, 1959, she married her loving husband Francis W. Carlyle. She and Francis spent most of their married life in Vermont before retiring and becoming snowbirds, wintering in Ocala, FL, and summering with their children in Vermont.
Ann Marie will be deeply missed by her children and their spouses, grandchildren and great-grandchildren, all of whom she loved beyond measure; Dion and Terri Carlyle, Tasia,(Shawn), Kailey (Steve) and great-grandchildren Oliver, Wesley and Ellie; Mona and Gunner McCain, George,(Caitlin), Ryan and great-grandchildren Adeline, Gunner and Finley; Marnie and Peter DeFreest, Jessica (Randy), Jillian's husband, (Micah), Jordan,(Alyson) and great-grandchildren Ariana, Zoe, Jaiden, Ezra and Amelia; Melanie and Chris Rutledge, Sydnie(Jake), Cameron(Kylie), Alayna, Mackenzie and great-granddaughter Madelyn. She is also survived by her siblings Bonnie, Marla, George Jr., her large loving extended family, her bonus children Jeff James, Larry Litchfield, Phillip Kellem and countless dear friends from both FL and VT. She was predeceased by her husband, Francis, her sister Judy and granddaughter Jillian.
Ann Marie, Annie, Ann, Fred, Mother, Mom, Gram and Gannie depending on who she was with at the time, will be remembered for her booming Boardman laugh, her huge loving heart and her love of a good afternoon nap. She will also be remembered for her love of animals especially her faithful canine companions Wallace and Cooney.
A celebration of her life will be held sometime in the spring. Her family thanked Central Vermont Home Health and Hospice for all of their support in enabling them to care for their mom at home. In lieu of flowers, contributions in her memory may be made to a local home, health and hospice organization.