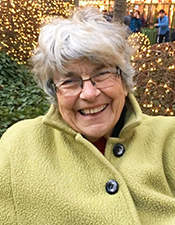 Anna Whiteside, 84, Warren, VT, passed away peacefully and unexpectedly on January 20, 2021, while visiting her daughter in Massachusetts.
Anna was born in Norwalk, CT, and attended Norwalk High School. She graduated from Katherine Gibbs Secretarial School, took courses at Parsons School of Design and worked as an executive secretary in an advertising agency in New York City. She later studied anthropology and writing at Goddard College and the University of Vermont.
Anna moved to the Mad River Valley in 1963 (with then husband Nicholas DeLuca Sr.) and resided in Warren for over 55 years. This is where Anna raised her three children, opened her heart and home to many who needed a place to stay and ran her business, Valley Associates Real Estate, later known as VARE. Her office was a fixture on Route 100 for more than 50 years.
Clients loved Anna and Anna loved her clients, many of whom became her lifelong friends. She took the time to get to know people on a personal level, walking properties with newcomers and sharing her insights about the exquisiteness The Valley had to offer. Anna was vibrant and strong and could outpace most people half her age on her daily walks with her loving pets, Summer (1997-2013) and Zoey.
Anna was passionate about family, work, education, community and many causes, including women's rights, environmental conservation and animal welfare. She was a member of the Vermont Democratic Caucus in the 1970s and was on the Warren Planning Commission for many years. Anna enjoyed travel, art, gardening and exploring Vermont's trails, fields and mountains.
An avid reader, Anna pursued her interests in political history, psychology, art, current events and more through books, and loved to discuss such topics over a good meal. She was also a great cook, specializing in Italian dishes. Preparing homemade meals for the multitude of guests who visited her Fuller Hill residence was an expression of love and especially important to Anna. Dinner parties often became dance parties as Anna loved music and loved to play it loud and hit the dance floor.
Anna was the daughter of Italian immigrants, the late George and Antoinette DiScala. She is survived by her three children, Joseph DeLuca (m. AnaMaria DeLuca) of San Francisco, CA; Nick DeLuca of Bridgeport, CT; Nina DeLuca of Lincoln, MA; and two grandchildren, Henry DeLuca, and SofiaRose DeLuca. Anna is also survived by her siblings, Frank DiScala Sr. and Joseph DiScala, as well as 15 nieces and nephews, including Thomas Horton of Warren, and a large extended family. Anna is predeceased by two siblings, George DiScala Jr. in 2020, and Catherine DiScala in 2019.
A celebration of Anna's life will be held at a future date when family and friends can safely gather. In lieu of flowers, please consider a donation in Anna's name to the Mad River Path Association, the Warren Public Library, or Mad River Valley Community Fund. Notes of condolence may be sent to the family c/o Nina DeLuca, 4 Farrar Road, Lincoln, MA 01773.