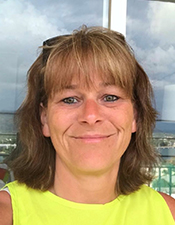 Shannon Borthwick, 47, passed away suddenly and unexpectedly on Tuesday February 9, 2021, in Waitsfield. Born in Burlington on February 5, 1974, she was the daughter of Janet (Straley) Marquis and the late Edson "Eddie" Borthwick.
Shannon was a 1992 graduate of Harwood Union High School. She was currently employed at the Shaw's Supermarket in Waitsfield as assistant grocery manager. She enjoyed reading, playing Candy Crush and spending time with her family, she especially loved the time spent with her grandchildren.
Shannon is loved and mourned by her family, her two daughters, Abigail Young and her husband Jared, and Cheyenne Borthwick; her mother Janet Marquis and her husband Dick; two grandchildren Gerrianna and Ellie; three sisters, April Brink and her husband Benjamin, Heather Bombard and her husband Andrew, and Candy Covey and her husband Jim; six nieces and nephews, Jonathan, Jazzy, Hunter, Kinley, Luke and Jon.
Her family and friends will remember her as the loving, caring, feisty, hard-working woman she always was.
Interment services will take place in Lakeview Cemetery in Burlington on Thursday, February 25, at 10:30 a.m. For those who wish, the family is asking that donations be sent to Heather Bombard 322 Tremblay Road, Waitsfield, VT 05673, to help the family. To send online condolences visit www.perkinsparker.com. Perkins-Parker Funeral Home and Cremation Service in Waterbury is assisting the family.