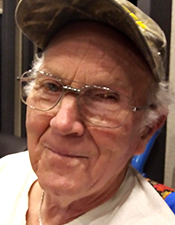 Harold T. Neel, 72, passed away unexpectedly on his houseboat in Parsons, Tennessee on Thursday, March 18, 2021. Born in Frederick, Maryland, on July 6, 1948, he was the son of the late Joseph C. and Thelma U. (Baker) Neel. On October 3, 1987, he married Muriel R. Snow in Warren. Muriel predeceased Harold on October 24, 2016.
Harold was a 1966 graduate of Middletown High School in Middletown, Maryland. He grew up on the family farm in Harmony Village, Maryland, and as a young man he worked as a farmhand before joining the United States Navy and serving his country from 1968 to 1971. He worked for the HB Duvalls Company and Ryder Trucking Corp., his specialty was as a diesel mechanic, but he could fix anything -- tractors, 18-wheelers, heavy equipment, cars, trucks, dirt bikes and lawn mowers. In 1990, he and Muriel moved to Lancaster and later returned to Vermont and settled in Panton. He retired in December of 2016. At the time of his passing he lived in Parsons, Tennessee.
In his leisure time he enjoyed hunting, fishing, traveling, old cars, collecting guns, antiquing and movies. He loved spending time on his houseboat in Tennessee. He was a true social butterfly, he enjoyed live bands, dancing, always the life of the party, he had a quick wit and was the perpetrator of many shenanigans. He cherished spending time with his daughter and grandchildren, as well as his large loving family.
Harold will be loved and mourned by his family, his daughter Brandi N. Bean and her husband Andrew of Panton; three grandchildren, Brice B. Bean and his fiancé Cheyenne Schlusser and Nyomi Bean all of Panton; seven younger siblings Fred Nell and his wife Diane of Boonsboro, MD, John Neel and his wife Ellen of Williamsport, MD, Madelyn Neel of Myersville, MD, Laverne Neel of Myersville, MD, Sandra Beard and her husband Jimmy of Myersville, MD, Maurice Neel and his wife Lisa of Myersville, MD, Kevin Neel and his wife Jenna of Myersville, MD; as well as nieces, nephews and extended family. He is predeceased by a half-brother, Les Hossman.
Graveside services will be held from the Warren Village Cemetery, on Tuesday, May 25, 2021, at 11 a.m. The family requests that in lieu of flowers, memorial gifts be considered to Warren United Church, P.O. Box 114, Warren, VT 05674. Assisting the family is Perkins-Parker Funeral Home and Cremation Service in Waterbury. To send online condolences visit www.perkinsparker.com.