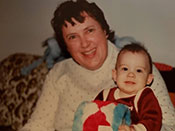 Margaret Theobald, a longtime resident of Warren, Vermont, passed away peacefully at Woodridge Nursing Home in Berlin, Vermont, on July 11, 2021.
Margaret Theobald was born on December 1, 1931, as Margaret Ethel Thayer. Her parents were Dennis Thayer and Delia Greenslit. She was born in Warren, Vermont, and attended Warren Grammar School. She was one of four daughters (Lillian, Nellie and Priscilla). Maggie enjoyed her years working with the Warren Library and volunteering at the grammar school and 4-H. Later in life she worked at the Sugarbush Inn.
Margaret married George Theobald on November 17, 1981. They were married for 30 years until their divorce in 2011.
Maggie's greatest joy in life was her family. She had no direct descendants but raised her siblings as if they were her own. Subsequently, she became a loving grandmother to her many nieces and nephews. An accomplished crocheter, Maggie made beautiful blankets for family and friends. She enjoyed a game of cards, Bingo, Dominos or any game where she was able to find a worthy opponent. She also enjoyed a good book and loved to cook. When not occupied with a craft, Maggie could be found taking a walk and watching the wildlife around her home near Blueberry Lake.
She leaves behind a sister, Priscilla (Thayer) Robinson and her husband Richard Robinson; four nephews, Jason Robinson, Dale Landry, Peter Landry, Steven Landry; and one niece, Audrey Landry. Maggie was predeceased by her parents, Dennis and Delia Thayer, her sisters, Nellie Landry and Lillian Mason.
The funeral will take place at the Warren Village Cemetery at 1 p.m. on August 21. In lieu of flowers, donations may be made to the Friends of the Warren Public Library or the Vermont Audubon.