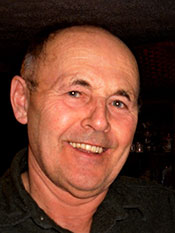 Frederick Carl Viens, 83, of Waitsfield, Vermont, passed away at the Central Vermont Medical Center on Wednesday, September 8, 2021, with his family by his side. Fred was born on November 27, 1937, at the Marble Farm (a cousin's home) on Marble Hill in Fayston, Vermont. Fred was the second child of Gregory and Fernande Viens, who had recently emigrated from Quebec, Canada. In late 1937, the family moved to the farm at the bottom of Dunbar Hill on North Fayston Road. Fred grew up there along with his six siblings. He attended the North Fayston School, a small country schoolhouse, just steps away from their home.
In 1955, Fred enlisted in the Air Force. He did his basic training at Geneva (NY) Air Force Base and then was sent to Homestead (FL) Air Force Base. There, Fred found life unfamiliar and the climate unpleasant. This northern boy got very homesick for Vermont's hills and cooler climate.
At about this time Fred's parents divorced. His mother needed him home to help with the farm and the younger children. Fred was able to return home on a "hardship discharge." Soon after his return, he met Shirley Fiske, who was destined to be his future wife.
After the barn of the family's farm collapsed in 1957 and the family gave up farming, Fred found work around the Mad River Valley. He logged for Charles Griffin, ran heavy equipment for Fred Brousseau and worked at the Ward Lumber Company.
Fred and Shirley were married on New Year's Eve 1960. They initially resided in Waterbury, Vermont, close to Shirley's parents Guy and Ellen Fiske. In 1965, with two young sons in tow, the couple moved to a home they built on North Fayston Road.
Fred, who at the time had been in partnership with his father, went into business on his own. For a time, in addition to running his own excavating company, he was road commissioner for the town of Waitsfield. Following the birth of their third son in 1970, Fred and Shirley started the Fred Viens Excavating Corporation which they ran until 2018. Fred and his crew did the labor and heavy equipment work, while Shirley handled all the bookkeeping, office work and payroll. Together they built a successful business that supported the family for many years.
Fred's business specialized in projects such as roads, cellar holes and driveways. To call Fred an excavator would be an understatement. In many respects he was an artist, using heavy equipment as his brush and the landscape as his canvas. He had a particular talent for constructing ponds, many of which rivalled nature's own for beauty. His work can be seen across the Mad River Valley, most notably the pond next to the Big Picture Theater & Café in Waitsfield.
Fred was an avid hunter of deer, moose, bears and turkeys. He took many hunting trips with friends and family members, including those with friends Ray Joslin, Jimmy Francis and Donnie Demas as well as brother Armand and brothers-in-law Dick Migneault and Bob Sweetser. He also enjoyed snowmobiling and was a member of the Vermont Association of Snow Travelers (VAST).
In addition to his parents, Fred was predeceased by his brother Armand (Brenda) and brothers-in-law Dick Migneault (Nicolle) and Woodfin Nichols (Jeanette). He is survived by sisters Huguette Abbot, Jeannette Nichols and Nicolle Migneault and brothers Gregory and Francis (Bethany), stepmother Lorraine Barlow, and siblings from his father's second marriage, Stanley, Melissa Sun (Steve), and Vicky Quenneville (David). He is also survived by Shirley's sister and her husband Betty and Bob Sweetser. Fred leaves behind his wife of 61 years, Shirley, and sons Guy, Freddie and Mathew (Johnnie). He also is survived by three much loved grandchildren, Kaylie (Daniel), Erin and Eli, their mother, Laura, and many cousins, nieces and nephews, and last, but certainly not least, his constant canine companion, Bessie.
A funeral service will be held on Sunday, September 26, 2021, at 1 p.m. in a tent next to the Waitsfield United Church of Christ on Main Street in Waitsfield. The service will be followed by a reception and then interment at the North Fayston Cemetery on North Fayston Road. The family respectfully requests that attendees wear face masks.
In lieu of flowers, donations may be made in Fred's memory to the Central Vermont Humane Society https://centralvermonthumane.org/ or the Mad River Valley Community Fund https://mrvcommunityfund.org/. Arrangements are in the care of Perkins-Parker Funeral Home and Cremation Service in Waterbury. To send online condolences, visit www.perkinsparker.com.