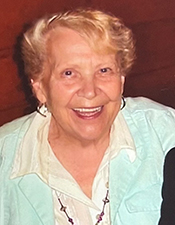 Gloria E. (Long) Currier, also known as "Glo" and Grandma "Gogi," age 93, passed away peacefully at home surrounded by her loving family and friends on Sunday January 9, 2022.
She was the daughter of Roy E. and Mildred (Downer) Long.
Gloria was born upstairs at the Warren Hotel, later known as The Warren Store, owned by her parents for 45 years.
As a little girl Gloria worked there standing on a milk crate making change for customers. That was the start of her becoming a fun-loving people person.
After raising her seven children, Gloria began a fun-filled job working at Green Mountain Coffee Roasters in Waitsfield. She greeted everyone with a smile as she handed out coffee, sold coffee machines and gave free cookies to The Valley's children along with a great big hug.
Her children and grandchildren were her No. 1 priority, but animals, dancing, music and gardening were also close to her heart.
She maintained her quick wit right up to the end.
She loved so many and was loved by many more. She will be sorely missed.
Gloria is survived by her sons Stephen and wife Janice Currier of Hampton Falls, NH, Scott Currier of Phoenix, AZ, Christian Currier of Warren, VT, daughter Pamela Wehner and husband Brad of Houston, TX; 16 grandchildren; 30 great-grandchildren, and 10 great-great-grandchildren. She is also survived by her sister Pauline Gallagher of Warren. VT, and many nieces and nephews.
Besides her parents, Gloria was predeceased by her son Brett Currier and daughter Cindy Currier Benson, her siblings Jerome Long, Sid Long, Glee Long Brooks and Melba Long and ex-husband Stanley Currier.
A celebration of life will be held in the spring to be published at a later date.