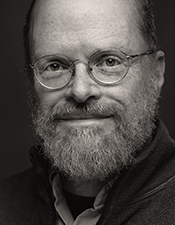 Thomas Emmett Barefoot III, 75, passed away peacefully at home on Tuesday, April 5, 2022, surrounded by loved ones.
Tom lived his life with conscious intention. A quiet and gentle person, Tom was thoughtful and reflective, listening to others with focused interest. He was remarkable and accomplished, a gracious and considerate person who always sought to be of service to others. He will be remembered for his warmth and generous friendship.
Tom was born on October 8,1946, in Washington, DC, and raised in Alexandria, Virginia. He attended The Loomis School in Windsor, CT, and completed his undergraduate studies at Tufts University, first majoring in particle physics and then graduating with a degree in philosophy. He later pursued graduate studies in ceramics and taught at the Boston Museum School. Tom's beautiful ceramic art continues to be proudly displayed by his family. After moving to Vermont, Tom also earned a master's degree in Human Services Administration from Antioch New England.
Tom nurtured a lifelong love of science, nature and technology. He was endlessly curious and fascinated by how things work, closely following new discoveries and trends in physics, astronomy, biology, environmental and human science. When one of the companies he founded was asked to create computer software for aeronautic training, he was particularly thrilled to be invited to a rocket launch at Cape Canaveral, a personal and professional highlight.
Growing up near Washington, DC, Tom enjoyed educational and cultural offerings that sparked many interests and passions. He shared fond memories of attending the National Geographic Lecture Series with his father and cousin Dave, including the lecture given by Sir Edmund Hillary and Tenzing Norgay after their historic first ascent of Mt. Everest. Standing in the crowd with his mother Winn as they witnessed Martin Luther King Jr.'s "I have a dream" speech helped to shape the keen sense of social justice that he would hold for the rest of his life.
As a student at Tufts University, Tom embraced activism in various forms. Over the years, he shared his time and expertise with numerous organizations, all working towards a kinder, healthier and compassionate world, and embracing the importance of economic and social justice. Tom spent many years on the board of the Vermont Public Interest Research Group, promoting and protecting the health and prosperity of Vermonters. He also co-founded GNH USA, actively engaging in research and legislation to improve the well-being of others. An active volunteer in his local community as well, Tom served as the disaster coordinator for Central Vermont Red Cross for many years. In 1995 Tom became a member of the Mad River Valley Ambulance Service and went on to become an advanced EMT and crew chief. He served on the MRVAS board of directors for many years and was instrumental in implementing many Advanced Life Support initiatives. When health challenges forced him to retire, he became the first MRVAS member emeritus.
Tom began studying meditation and yoga in college, and in 1970 he joined Ananda Marga, a meditation and social change organization based in India. Over the next 50 years he would take many trips to India, deepening his practice and foundation of spiritual knowledge. For many years Tom taught meditation and yoga classes in Vermont, across New England and in numerous other countries.
Tom was fortunate to study with the visionary architect and philosopher, Buckminster Fuller, known for creating the geodesic dome. He was so inspired by Bucky's work that he rallied a group of friends and built his own geodesic dome in Warren in 1970. It was to this dome that he brought his wife Joni in 1976 and where he raised his beloved daughter Madhurii. Over the years, Tom and Joni have hosted countless guests and celebrations in their famed dome home, including a treasured annual Thanksgiving celebration with dozens of their friends and family.
In 1977, Tom founded Effectiveness Training Consultants, providing Vermont state agencies with training in interpersonal and business administration skills. His interest in the emerging field of computer science created a natural segue for him to establish Universal Micro Systems in 1980, one of the first companies in Vermont to sell personal computers. UMS would go on to provide many Vermont state agencies and businesses with their very first computer systems and software programs. Over the years, the business grew to offer networking solutions, programming and repairs to companies across Vermont and New England.
Tom began skiing in the Mad River Valley as a child, and skiing became one of his great passions, ski racing in college and making time to hit the ski slopes every chance he got. Tom taught his daughter to ski at the age of 2, carrying her up their steep driveway for ski run after ski run until she was old enough to ride the lift. Skiing became one of their shared joys, and most winter weekends found them on the hill at Mad River Glen or Sugarbush. Together, they traveled the world to ski, including memorable out-of-bounds adventures in New Zealand, Switzerland and British Columbia as well as exhausting but rewarding hikes up Mount Washington to ski Tuckerman's Ravine. He was just as enthusiastic when his grandchildren learned to ski, patiently following them down beginner trails until they were ready to follow their granddad down black diamonds.
Tom loved nature and spending time outside. Some of his most cherished memories were of backpacking and rock climbing throughout New England and the Mountain West, especially Yosemite and the Grand Tetons. He shared countless camping trips with friends and family, bringing his daughter and friends to secret mountainside wild blueberry patches every summer, hiking in the fall and skiing in the winter.
One of the great joys of Tom's life was his family and he was a devoted husband and an attentive, playful and loving father and grandfather. He was quietly funny, famous for his fine humor and terrible puns, often trading dinner table jokes with his grandchildren. He loved attending his daughter's and eventually his grandchildren's school performances, dance recitals and sporting events. Tom was a constant support for his family, always there with a strong shoulder and wise word on hard days, and genuinely delighted by their happiness and success.
Tom's travels and accomplishments led him across the globe, and he established deep friendships and touched many lives all over the world. His warm hugs, quiet smile and unswerving commitment to helping others will be deeply missed. He was a noble man, in every sense of the word, living his life with courage, authenticity and a heart of gold.
Tom is survived by his wife of 46 years, Joni Zweig, his daughter Madhurii Barefoot Maves, her husband Tyler Maves and his grandchildren Skye, Griffin and Gus Maves, along with his cousin David and extended family members.
Please join us for a celebration of Tom's life on Saturday, May 7, at The Inn at the Round Barn in Waitsfield from 2 to 5 p.m. www.theroundbarn.com. In lieu of flowers, donations can be sent to Amurtel one of Tom's favorite charities www.amurtel.org.