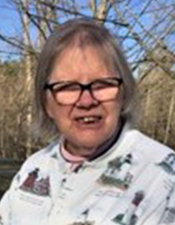 Julia Ann Ryan "Judy", 79, formerly of Middlesex, passed away surrounded by her family on Saturday, June 18, 2022, at the Heaton Woods Residence in Montpelier. Born in Warren on October 27, 1942, she was the daughter of the late Marsena and Ruth (Varney) Greenslit. She was previously married to Arthur James and later Thomas Ryan.
Julia was a 1961 graduate of Waitsfield High School. As a young woman she was happy and busy caring for her family. She began her working career at the Sugarbush Ski Resort in Warren, later working at the Camp Meade Restaurant in Middlesex, she worked for over 25 years at the National Life Insurance Company of Montpelier in the underwriting department. Her last employer was the Vermont State Employees Credit Union in Montpelier.
Julia was a member of the Moose Lodge in Williamstown, the Grange in Middlesex, the Middlesex Methodist Church and the Middlesex Volunteer Fire Department Auxiliary. In her leisure time she enjoyed going for walks, playing Bingo, creating ceramics pieces and she was a fan of both the Boston Red Sox and auto racing at Thunder Road. Her greatest joy came from spending time with her family.
Julia is survived by her children, Tina Kennedy and her husband, Scott of Moretown, Carol James and her wife, Kara Brown of Washington, Everett Ryan of Logan, OH, Tim Ryan and his wife, Ann of Middlesex; three sisters, Marcella Pierce and her husband, William of Bradenton, FL, Marilyn Miller of Warren and Jilda Greenslit of Berlin; a brother Allen Greenslit and his wife, Sherry of Waitsfield; seven grandchildren, two great-grandchildren; as well as nieces, nephews and extended family. She is predeceased by a brother Ervin "Buster" Greenslit.
A celebration of Julia Ann Ryan's life will be held at Warren United Church in Warren on Monday, June 27, 2022, at 11 a.m. with a reception to follow in the Warren Town Hall. Interment will take place in the family lot in Warren Village Cemetery. The family would like to thank the staff of Heaton Woods and Central Vermont Home Health and Hospice for the wonderful care they gave Julia. For those who wish, memorial gifts could be made to Central Vermont Home Health and Hospice 600 Granger Road, Barre, VT 05641 or Heaton Woods Residence, 10 Heaton Street, Montpelier, VT 05602. To send online condolences, please visit www.perkinsparker.com.