Mark Douglas Podgwaite Sr.
December 14, 1961 - October 14, 2022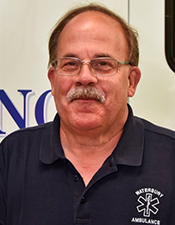 We are so sad to announce the unexpected passing of Mark Podgwaite Sr. on October 14, 2022.
Born in Connecticut to parents Dr. George and Beverly Podgwaite on December 14, 1961, he grew up in Woodbridge and North Haven, Connecticut. Mark moved to Island Pond, Vermont, in 1991 with his first wife and two children.
Early in his professional career, Mark enjoyed being a chef in Connecticut and upon moving to Vermont held different positions where he was a chef in school systems. As an adult Mark was always devoted to the community members he served which included being on the Northfield Fire Department and then on the Northfield Ambulance where he and his second wife Betty served for many years. Mark later became assistant chief at Northfield Ambulance.
Mark was always expanding his knowledge and devotion to helping others which led him to obtain his Advanced Emergency Medical Technician license. After realizing his passion of helping others, he became the full-time director at Lyndon Rescue.
In March 2017, Mark joined Waterbury Ambulance as the executive director where he improved the station with up-to-date equipment, trucks, and his latest project – plans for a new building.
During the COVID-19 pandemic, Mark jumped in with both feet to administer tests and later vaccines. He also set up static sites across various communities in Vermont while continuing outreach and going as far as to vaccinate people in their own homes.
Mark's dedication to Waterbury and the entire EMS community will be greatly missed. His most recent achievement was being a recipient of the EMS Lifetime Award in 2022.
Since his teenage years, Mark had a passion for poultry and showing of birds at various fairs throughout New England. This continued into his adulthood and limited free time and led him to be elected president of the American Poultry Association in 2020, a position he currently held.
Survivors include: his wife and best friend, Lisa Podgwaite of Northfield; sister Joanne Covino and her husband Paul; two beautiful nieces Kyla and Olivia; daughter Desiree Larkin, son-in-law Travis; son Mark Jr. and daughter-in-law Danielle; his mother Beverly Colrus. His greatest love was his grandchildren: Travis, Savanna, Luke, Adley, Celsey, Kaelynn, Kyle and Karter. Additionally, he is survived by his stepchildren Alex and Miranda Clark as well as his cousins Bobby, Donna, Ivan, Wolff and Josh of Connecticut and other extended family. Mark was predeceased by his father Dr. George Podgwaite and his stepfather William Colrus.
Services will be held on November 6 at 10 a.m. at Plumley Armory at Norwich University in Northfield, Vermont. An ambulance procession will begin at Farr's Field on U.S. Route 2 in Waterbury at 9 a.m. traveling down Main Street, continuing to Northfield and concluding at the service. A private gathering will immediately follow.
Please consider donating on behalf of Mark to complete the Station Creation Project for Waterbury Ambulance Service. Donations can be made online at waterburyambulance.org/station-creation/or by mail to Waterbury Ambulance Service, P.O. Box 95, Waterbury Center, VT 05677.