Cedric C. Reagan
May 13, 1928 – January 1, 2023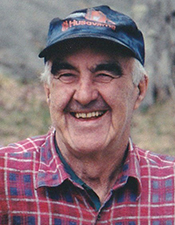 Cedric C. Reagan- 94, a lifelong resident of Moretown, passed away at the Barre Gardens Nursing and Rehabilitation Center in Barre on Sunday, January 1, 2023. Born in Montpelier on May 13, 1928, he was the son of the late Merrill Reagan and Ruth (Cutler) Reagan. On October 1, 1951, he married the former Joyce "Dolly" Norris in Waterbury Center. Dolly predeceased Cedric on September 2, 2019.
Cedric grew up and attended schools in Moretown. As a young man he went to work at the Ward Lumber Co. in Moretown, pruning trees and later working on the hot pond. He worked for Ed Hayes as a truck driver, picking up milk at local farms. He also worked for the town of Moretown on the road crew. Much of his working life was spent in the woods logging. He went to work for G.T. Evans for a few years, then started his own logging business working with Adrian Elwell and later Raymond "Doc" Spaulding. After logging for several years, he started his own business doing excavation work and snowplowing.
Cedric was a founding member of the Moretown Historical Society. In his leisure time, he enjoyed barn dances, square dancing, country music, reading westerns and traveling the backroads. He enjoyed talking with people and with 94 years of life well lived, he could tell some good stories. The time spent with his family was very special to him.
Cedric is loved and mourned by his children, Denise Gabaree and her husband, Joe, of Moretown, Dale Reagan and his wife, Rae, of Moretown, Rebecca Zinn and her husband, Wally, of South Hero; seven grandchildren, Justin Gabaree and his wife, Diane, Whitney Cassell and her husband, Bob Jr., Mandy Reagan, Cole Reagan, Lacey Clark and her husband, Brooks, Chloe Zinn, and Kip Zinn; three great-grandchildren, Jakob Gabaree, Alexis Clark and Beckett Clark; two sisters-in-law, Sandy Reagan of Moretown, and Lois Sorgen of North Fort Meyers, FL; a son-in-law, Owen Wimble and his partner, Renee, of Waitsfield; as well as nieces, nephews, cousins and extended family. Cedric was predeceased by his daughter, Beth Wimble, a sister Barbara Ripley, and a brother Douglas Reagan.
A gathering celebrating the life of Cedric Reagan will be held at a later date. Inurnment will be in Mountain View Cemetery in Moretown. For those who wish, memorial gifts can be made to the Moretown Historical Society, P.O. Box 487, Moretown, VT 05660. Assisting the family is Perkins-Parker Funeral Home and Cremation Service in Waterbury.