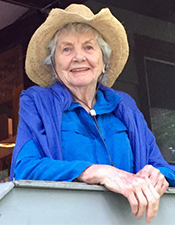 Janet Poole Mischler, age 102, died peacefully with her family at her side on her birthday, March 10, 2023, at 9 a.m. at her home in Fayston on Route 17. Born in Ipswich, Massachusetts, in 1921 she was raised in Hanover, New Hampshire, where her father James was a professor of Botany at Dartmouth College. She was the youngest of three sisters, Margery and Barbara, and was an avid skier, being one of the originals at Mad River Glen, along with her husband Ed. She is survived by her children, Lynda and Alan, and seven grandchildren and 10 great-grandchildren.
Graduating from Smith College in 1943, she majored in Spanish and later moved to Washington, DC, where she initially worked for the Uruguayan Embassy and then the U.S. State Department. This eventually led to a career beginning with the International Monetary Fund and then the Inter-American Development Bank for over 20 years where she rose to a position of chief of personnel and translator and traveled the world.
Married in 1946, she and her husband Ed built their home in Bethesda, Maryland, and divided their time between Maryland and the home they built here in The Valley in the early 1960s. Friends of Mad River Glen founder Roland Palmedo, they began skiing here in The Valley in the 1950s. Along with their children and two very close friends, Lil and Glen Leach, they developed a reputation for being diehard Mad River skiers, driving 10-11 hours each way from Maryland to Vermont every winter weekend. Both children learned to -- and still ski at Mad River Glen where Lynda was once on the ski patrol and Alan taught skiing and was on the race team in the 1960s. Most of the grandchildren and even great-grandchildren are avid skiers and learned to ski at Mad River Glen.
She loved to hike and made a few trips up Camel's Hump and Tuckerman's Ravine. She was a supporter of the Mad River Path Association and hiked many of the trails she supported, the Catamount trail being one of her favorites. She and Ed were members of the Mad River Tennis Association for many years.
Adored by her grandchildren and great-grandchildren and known as "Mimi", she loved Winnie the Pooh, limericks, piano and even wrote her own children's story called Gollibus. She was fluent in Spanish, accomplished at needlepoint and knitting and writing poetry. She was also known for her love of adventure and world travel, love of animals, and love of the Green Mountains. She spent her last days here at her home in The Valley, where she loved to be.
A celebration of her life will be held for family and friends on June 17 at the family home in Fayston. For additional information contact Lynda at This email address is being protected from spambots. You need JavaScript enabled to view it.. Donations in her memory suggested to Mad River Path Association.