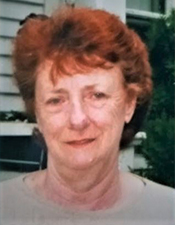 Rhoda Ann Wimble, 86, passed from this life into the nearer presence of Christ on May 13, 2023, at Garnette Gardens in Redwood Falls, Minnesota. She was born in Burlington on June 17, 1936, to Mrs. Bernice Allen. Her father, Ralph Allen, had passed away shortly before her birth. Bernice later remarried, to George McDonald, and the family lived in Duxbury, Vermont, Rhoda graduated from Waterbury High School in 1954, and also attended Burlington Business College.
Rhoda moved to Connecticut, lived with her cherished Aunt Mary, and was employed by Manning, Maxwell & Moore, in Stratford. In 1961 she married Patsy Notarnicola, with whom she had two children, Pat Jr. and Lisa. Rhoda worked in the family market and later trained for nursing homework as a CNA. In 1994 she married Robert Wimble of Moretown. For several years they lived on the Wimble farm, then relocated to the house where her mother had resided in Duxbury.
Rhoda was a beloved wife, mother, and grandmother. She enjoyed nature photography, bird watching, and car rides through the countryside. She and Robert attended meetings of the Moretown and Duxbury Historical Societies. They were also active members of Christ the Redeemer Lutheran Church of Barre.
In 2021 they moved to an assisted living facility in Minnesota, near two of their granddaughters. Rhoda left us being cared for in the same way as she had proudly provided care to many patients, as a hard-working, compassionate CNA at Lord Chamberlain Convalescent Home in Stratford. It takes a special person to provide such care, and she thoroughly enjoyed it.
She was preceded in death by her mother, father, stepfather, and half-brother Bruce Allen. She is survived by her husband, Robert Wimble; children Pat Notarnicola Jr. of Trumbull, Connecticut, and Lisa Mathis of Coconut Creek, Florida; stepchildren Carol Webber of Princeton, Minnesota, and Carl Wimble of Moretown; granddaughter Eryca Lopez; step-grandchildren Paul Webber, Sarah Leyrer, Catharine Soule, and Olivia Wimble; two great-grandsons, 13 step-great-grandchildren, and many loving cousins.
Rhoda's funeral will be held at 11 a.m. on Friday, June 9, at Perkins-Parker Funeral Home in Waterbury, with Rev. Jay Webber officiating. It will be preceded by visitation, beginning at 10 a.m., and cemetery interment will follow. The family is grateful to CentraCare Redwood Hospice and the Garnette Gardens Memory Care Unit staff for the phenomenal care provided during these past few months. In lieu of flowers, memorials can be given Christ the Redeemer Lutheran Church (46 Warner Road, Barre, VT 05641).