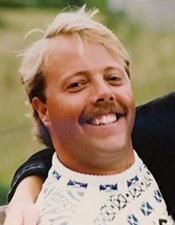 Benjamin Frost Hale, 62, passed away May 24, 2023, surrounded by his family in Charleston, SC. The youngest of three siblings, Ben was born on October 24, 1960, to Rufus Houston Hale and Jane Fountain Hale.
An avid golfer, Ben co-founded Vermont Golf Magazine and worked to expand its reach across New England through the publishing company Divot Communications. The magazine opened in Burlington in 1991 and eventually landed in Waitsfield, where Ben and his wife Joan Harvey raised their family. He greatly enjoyed spending time with friends on the course and exploring the many beautiful courses Vermont has to offer.
In addition to golfing, Ben loved spending his time on the water in any capacity he could. Much of his free time was spent fishing with his daughters or boating with friends. Ben and his family eventually made the move down south to Wilmington, North Carolina, and later Charleston, South Carolina, to pursue these passions. Whether it be tuna fishing offshore, or waterskiing Lake Champlain, Ben's love for the water could be felt by all.
Ben is survived by his three daughters, Jessica Hale, Maggie Halem and Sarah Hale, his two siblings, Bradley Hale, his wife Mary and children Alden, Abbey and Cooper, and Sarah Hughes, her husband Michael and daughters Jane (husband Aaron Jacobs) and Alexandria; his grandson Sawyer and numerous extended family members. He was predeceased by both of his parents.
A service will be held for friends and family in Vermont this summer.