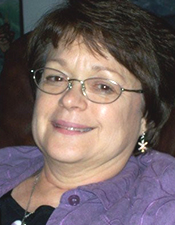 On Monday, August 7,, 2023, Susan (Sue) King Blair of Williston passed away peacefully at the age of 74 at the UVM Medical Center in Burlington. Over the course of a few days she had spoken at length to both of her sisters, her two children and her husband, before deciding to let go Monday evening.
Susan was born on September 23, 1948, the first child of Bartow and Sally Miller King in Honolulu, Hawaii. Her dad had a lengthy career in the Air Force which took the family to many different bases around the country, and even spent four years in the Philippines during Susan's teens. It was an adventure that she always remembered fondly. She graduated from Annandale High School in Annandale, VA, in 1966, and was in the third four-year degree class to graduate from George Mason College (now George Mason University) with a BA in History in 1970. In 1971 she met a young Navy Lieutenant named Tom Blair in Annapolis, MD, where he was assigned as an instructor at the U.S. Naval Academy, and they were married the following June. His duty assignments took them to St Petersburg, FL, in 1973 and then to Newport, RI, in 1975. In 1977 Tom and Susan left the active duty Navy and moved back to Tom's childhood home of Warren, VT, where they lived until 1998. They raised two children there, Michael and Laura.
Susan worked briefly for a couple of companies while also serving as The Valley's Tupperware lady! She ultimately found her true calling at the Warren Public Library. In January of 1998 she, Laura, and Tom moved to Williston where Susan went to work as the Childrens' Librarian at the Dorothy Alling Memorial Library. She remained in that position until her retirement in 2014. Susan and Tom bought a condo in Englewood, FL, and starting in 2014, spent their winters there. Susan enjoyed the warm weather and the good friends that they made in a small, tight-knit community. Of course, Susan had to be involved, so she volunteered for the social committee, helping to plan and host the monthly pool parties.
The condolence messages from friends in both Vermont and Florida use words like strong, courageous, beautiful, sweet, caring, kind, lovely lady, great friend. All true!
Susan was predeceased by her parents Bartow and Sally Miller King. She leaves behind her husband Tom Blair, son Michael Blair, daughter Laura Blair, sisters Linda King Maxwell and Nancy King Barbee, plus brothers-in-law and sisters-in-law, cousins, nephews, nieces, grand-nephews and grand-nieces too numerous to mention.
There will be a Celebration of Life ceremony at 11 a.m. on September 23 at Warren United Church in Warren, VT, followed by burial of the ashes at the Warren Village Cemetery. A reception will follow. In lieu of flowers, we ask that you donate to one of Susan's favorite causes. She was a supporter of the Vermont Foodbank, and she also loved her dobermans, two of which were adopted from Doberman Rescue Unlimited. The links to make donations to those organizations are below.
VT Foodbank https://2709.thankyou4caring.org/vtfoodbank/tributegift?default=60
Doberman Rescue Donate Now - Support Dobermans in Need - Doberman Rescue Unltd (dru.org)