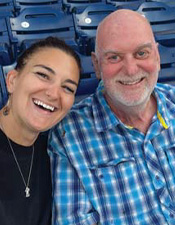 In loving memory of Steve Dollmeyer, a man whose zest for life, commitment to family, and impeccable work ethic left an indelible mark on everyone he encountered. Steve departed from this world on the morning of Wednesday, October 4, 2023, leaving behind not just memories, but a legacy of reliability, responsibility, and unwavering love for his family and friends.
Steve had a way with words; articulate, smart, and armed with a dry wit that could bring a smile even in the most challenging times. His intellect shone through in every interaction, making him recognized as one of the sharpest you could meet. His friends and family fondly remember his reassuring presence -- he was always there when needed, a true beacon of strength.
Steve often said he was "born to build" and anyone who stepped into his over-a-century-old home in Warren Village could see the truth in those words. With meticulous attention to detail, he restored and nurtured his home, making it a reflection of his personality – steadfast and charming. And it wasn't just buildings that he constructed; he built a warm and loving environment for his two beloved children, Syd and Luke. Steve's dedication to his children was evident in every game he attended, every meal he prepared, and every bedtime story he narrated.
Balancing a full-time job as an engineer and the responsibilities of a single parent, Steve exemplified what it means to be truly committed. His engineering colleagues knew him as a man of precision and innovation, always ready to tackle the next challenge.
As a lifelong traveler, Steve explored the globe extensively, initially out of curiosity, a thirst for adventure, and self-discovery, and later, in his career as an engineer. These adventures nurtured his deep appreciation for global cultures and his love of their food and music. Whether it be the perfect recipe for Harissa or the best unknown artist of any genre, Steve knew it and enjoyed sharing with others.
While Steve enjoyed the serene greens of the golf course, the snow-clad slopes were where his heart truly lay. An exceptional skier, Steve glided through life just as he did on the slopes -- with grace and passion. He fearlessly led friends into challenging runs, showing little concern for the obstacles that lay ahead. As a ski racing instructor and videographer, he not only imparted skills but also shared his infectious love for the sport. During one memorable moment in Portillo, Chile, he ingeniously fixed a problem with his ski boots using a table saw and duct tape in the hotel's woodworking shop, to get back onto the mountain as soon as he could. Those privileged enough to hear his various other tales of the exhilarating years he spent in Portillo, Tahoe, Jackson, and Vermont would attest to the glint in his eyes and the infectious enthusiasm in his voice.
Today, as we remember Steve Dollmeyer, we don't just mourn the loss of an exceptional man; we celebrate a life lived to the fullest, a life that touched countless others. We find solace in the memories, the laughter, the wisdom, and the lessons he shared. His spirit will forever carve its path on the snowy slopes, echoing in the wind, reminding us all to live with passion, love with all our hearts, and to always be there for those who need us.
A celebration of life for Steve will be held on Sunday, October 22, 2023m at The Chateau in Incline Village, NVm from noon to 4 p.m. All are welcome to come take part in commemorating Steve's life and adventures.