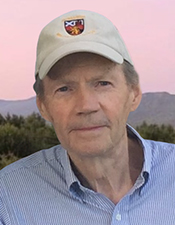 Robert "Bob" McLeod, 87, passed away unexpectedly at his home on Perry Hill on Sunday, November 5, 2023. Born in Barre City on October 10, 1936, he was the son of the late William A. McLeod and Rebecca (Houston) McLeod.
Bob graduated from Montpelier High School in 1954. He attended St. Lawrence University before being appointed to the U.S. Naval Academy. He was a proud member of the 18th Company and graduated with the "Rise and Shine" Class of 1959. Bob joined the fleet as a Surface Warfare Officer serving aboard the destroyer USS Laffey (DD-724) and aircraft carrier USS Constellation (CVA-64).
Leaving the Navy in 1963, he returned to his beloved Vermont to begin a varied and successful business career. He spent over 50 years working in real estate in Central Vermont building a fulfilling career where he connected deeply with people.
He was a longtime member of the Waterbury Congregational Church where he served as a trustee and in countless other capacities. Probably the only thing he didn't do was sing in the choir! He was a member of Rotary International and served as director, vice-president, and president of the Waterbury Rotary Club. As a founding member of Revitalizing Waterbury, Bob recognized the long-term importance of creating and maintaining a vibrant downtown atmosphere.
Married on June 20, 1959, Bob was a loving and devoted husband to Norma Lois (Taylor) McLeod. In 1967, they moved into the home he designed and built on Perry Hill. He cherished their tight-knit "neighborhood" where lifelong friends became like family. The couple enjoyed a long and meaningful marriage, sharing a love for skiing, hiking, tennis, and golf. Bob spent his retirement years as Norma's faithful and dedicated caregiver.
Humble and selfless by nature, Bob's gentle demeanor only scratched the surface of his charm. He was always amusing friends and family with his dry sense of humor and witty insights. Generous in every sense of the word, Bob was a great listener, a calming presence in any storm, and had a natural gift for making people feel comfortable and valued.
Bob is loved and mourned by his wife of 64 years, Norma; his children Julia Garufi of Waterbury and Stephen McLeod of Starksboro; son-in-law Roger Garufi and daughter-in-law Jodi (Berglass) McLeod; grandchildren Fiona Garufi, Heather Garufi, William McLeod, and Rhiannon McLeod; several nieces, nephews, and grandnephews; and countless neighbors and community members.
Bob was a remarkably caring person, beloved by everyone who met him.
In honor of Bob's lifelong commitment to his community, in lieu of flowers, please consider donating to the Waterbury Good Neighbor Fund or Waterbury Meals on Wheels.
A celebration of the life of Robert H. McLeod will be held at the Waterbury Congregational Church on Saturday, December 2, at 1 p.m. Friends and family will be invited to share a memory of Bob, followed by a reception in the church dining room. To send online condolences, visit perkinsparker.com.