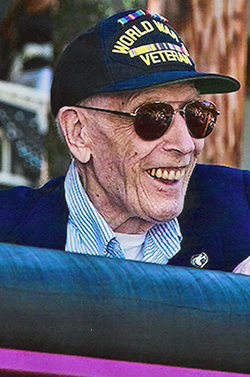 Thomas J. Roche, 89, of Waitsfield, passed away on October 3, 2013, at Rowan Court Health and Rehabilitation Center in Barre, following a period of declining health. Born in Brooklyn, NY, on January 6, 1924, he was the son of the late William and Mary (McDermott) Roche.
Tom was a graduate of St Augustine's High School in Brooklyn, NY. After high school, he enlisted in the U.S. Army and was selected to be part of the 3132nd Signal Service Company Special, Sonic Deception Unit. Known as "The Ghost Army," this elite and secret unit was comprised of 1,100 artists, radio signalmen and sound technicians. They performed 21 successful deceptions in the European Theater during WWII. Their actions had the effect of saving many lives on both sides of the conflict.
After the war, Tom returned to New York and graduated from New York University in 1948. Early in his career he worked in banking and sales. He eventually retired as an import manager in the plumbing industry.
Tom married the former Joan Knight of Brooklyn, NY, in 1950. He and his wife raised their family in Freeport, NY.
Tom was an avid reader and a gifted storyteller. He was known for his keen sense of humor and sharp intellect. Most recently he enjoyed the Monday morning breakfasts at Mad River Valley Senior Center. He was also a volunteer in the "Everybody Wins" program at Waitsfield School.
Tom is survived by Joan Roche, his loving wife of 63 years. He will be missed by his loving daughter, Pat Amann and her husband Ken of Fayston, and his loving daughter, Amy Rick and her husband Steve of Carlsbad, CA. Tom is also survived by loving granddaughter Katherine Kreider and her husband Christopher of Charlotte, NC, and loving granddaughter Jan Rooney and her husband Matthew of Denver, CO. He leaves behind brother-in-law and dearest friend Jim Muldoon of Centennial, CO, as well as many wonderful nieces and nephews.
Tom will be laid to rest with full military honors at Vermont Veterans Memorial Cemetery in Randolph Center on October 10, 2013, at 11 a.m.
In lieu of flowers, donations may be made to Mad River Valley Ambulance Service, P.O. Box 305, Waitsfield, VT 05673 or Mad River Valley Senior Center, 5308 Main Street, Waitsfield, VT 05673. Assisting the family is Perkins-Parker Funeral Home.
{loadnavigation}