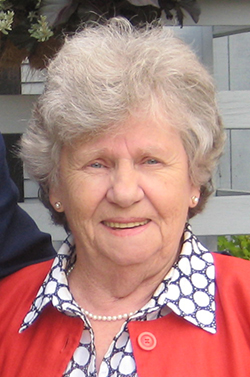 Joan K. Roche, 88, of Waitsfield passed away peacefully in the comfort of her family on October 7, 2013. Born in Brooklyn, NY, on May 8, 1925, she was the daughter of Thomas and Edna (Henaghan) Knight. On August 26, 1950, Joan married Thomas Roche in Brooklyn, NY. Tom predeceased his wife on October 3, 2013.
Joan was a 1943 graduate of St. Edmund's High School in Brooklyn. Following high school, she went to work in New York at Young and Rubicam as an account assistant. After Joan married, she moved to Harrisburg, PA, where her first daughter was born. The family later returned to New York and a second daughter was born. In 1960, the family settled in Freeport, NY. Joan worked as an admissions clerk at New York Institute of Technology until she retired at the age of 73. She and her husband, Tom, moved to the Mad River Valley in 2009 to be closer to their daughter's family.
Joan loved to travel, knit, shop and spend time with her grandchildren.
She is survived by her loving daughter, Pat Amann and her husband Ken of Fayston, and loving daughter, Amy Rick and her husband Steve of Henderson, NV. Joan also leaves behind granddaughter Katie Kreider and her husband Chris of Charlotte, NC, and granddaughter Jan Rooney and her husband Matt of Denver, CO.
A Mass will be held on Friday, December 13, 2013, at 10 a.m. at Our Lady of the Snows in Waitsfield. In lieu of flowers, the family requests that memorial gifts be donated to Mad River Valley Ambulance Service, P.O. Box 305, Waitsfield, VT 05673. Assisting the family is Perkins-Parker Funeral Home and Cremation Service in Waterbury.
{loadnavigation}