In addition to a fantastic list of theatrical performances that Harwood Union High School puts on annually, "Shrek the Musical" is set to hit its stage this Thursday, April 4, at 7:30 p.m.
An enchanted tale about a grumpy ogre in his swamp – turned knight to regain sole possession of his home – will be put on for one weekend, four shows. Shrek, the ogre played by Connor McCarty, and his newfound companion, the ever hilarious Donkey, played by Harwood soccer star Duncan Weinman, will be sure to make audiences laugh.
Their travels from swamp to distant kingdom, back again on an escapade to save a damsel in distress, Princess Fiona, played by Ella Holter, has a few secrets hidden up her velvet sleeve. The production sets in the backdrop are exquisitely drawn with fine detail and eye-catching color. Costume design and makeup for characters such as Donkey and Shrek nail the real-life similarities between the original cartoons, which debuted in 2001.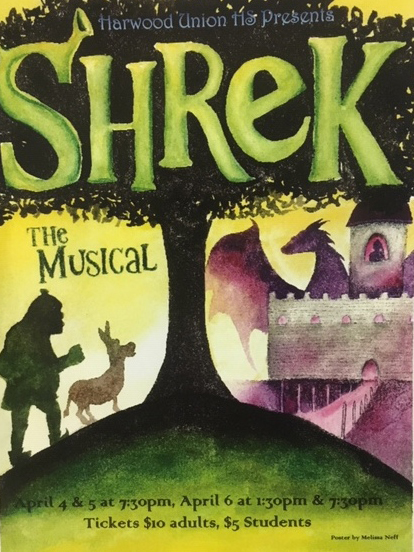 Showtimes for this production are April 4 and 5 at 7:30 p.m. and April 6 with a matinee at 1:30 and again at 7:30. Tickets are sold at the door.