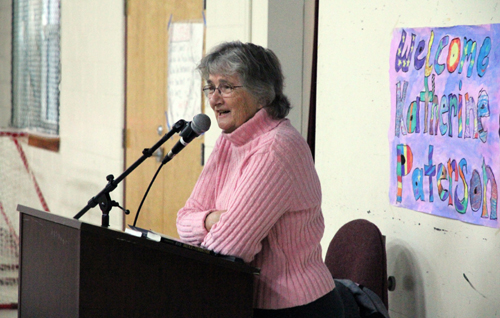 Over 100 students from Waitsfield, Warren and Moretown were treated last week to a visit from Barre author Katherine Paterson at Waitsfield School. Named a "Living Legend" by the U.S. Library of Congress, she has won the Newbery Award for two of her books—Bridge to Terabithia and Jacob have I Loved—as well as a Newbery Honor for The Great Gilly Hopkins, a National Book Award for The Master Puppeteer, and the greatest international award of all for children's literature, the Hans Christian Andersen Award, for the whole of her work, among many others. She is presently finishing a two-year term as the National Ambassador for Young People's Literature, traveling the country spreading the message that reading is important. Although both students and adults initially felt a tad starstruck, Paterson showed herself to be a down-to-earth warm and caring neighbor who still loves writing books for children after 40 years.
After reading bits from her books, Paterson spent time thoughtfully answering questions from the eager audience of third- to sixth-graders. They learned of her early childhood as a missionary's daughter in China, being uprooted by World War II, and moving to the American south, where she was teased mightily for her British accent. Later she worked in Japan, until she met her husband.
The students were curious about Paterson's writing methods, favorite genres and sources of ideas. Because she had four young children when she started her writing career, she learned to grab any opportunity of time and place to work rather than having a set schedule. She prefers writing contemporary and historical novels, although she has written several picture books and easy readers, as well as translating and retelling a few folktales. She has eschewed writing sequels afraid that they would not hold up to the original, though occasionally kids have clamored for them. Her inspiration comes from her own interesting and full life, as well as historical items that caught her eye, and even occasionally from dreams, she said.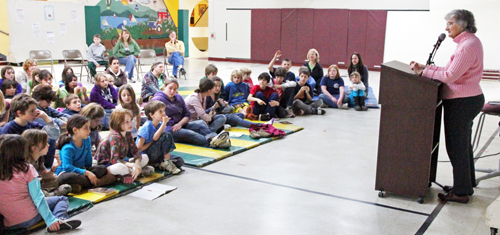 Recently Paterson has enjoyed collaborating with her husband on a retelling of an early 20th-century fantasy, The Flint Heart, an out-of-print and outdated gem about a magic talisman which sours and hardens its owners, and the efforts of some children to restore their father to his true kind self . . . with the help of a bunch of delightful fairies.
Although Bridge to Terabithia, a groundbreaking novel about two friends, their private "kingdom," and a tragedy, is her bestselling book, Paterson refuses to name a favorite. Frequently "challenged" by well-meaning adults because of its heartbreaking ending, Bridge has become a classic read widely in most elementary schools. She shared that her son (whose friend's death inspired the book) wrote the screenplay for the movie and resisted Hollywood's attempts to soften the blow and drastically change the ending, feeling that would insult the memory of his friend.
Katherine Paterson's advice to kids who want to write is: Read, read, read . . . that's how to learn to build a story and form characters. Citing her own experience of writing and submitting manuscripts for seven years before becoming a published author, she stressed that persistence is also a necessary ingredient to success.
{loadnavigation}