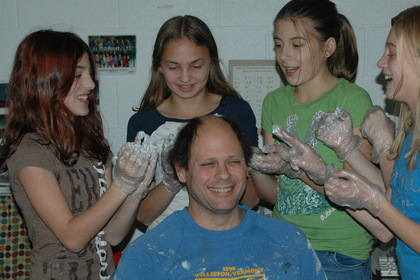 Those that laugh audibly at Fayston Elementary School teacher Doug Bergstein's pink and purple hair will be asked to contribute to the flood fund-raising efforts of five of his fifth- and sixth-grade students.
Janie Cozzi, Ella Hubbard, Lindsay Crowell, Camille King and Carly Wilcox raised over $680 for the Mad River Valley Community Fund and as a prize were allowed to dye Mr. B's hair during an on-air segment on MRVTV.
The four sixth-graders and one fifth-grader organized a coin drop called the "Jeccl Jug" contest, representing the first letter of each student's name. Each classroom got a jug to collect money for flood relief.
They put up posters around the school and asked fellow classmates to do chores around the house, collect spare change and allowances and put them in the jugs.
Whichever class raised the most money could choose a prize. The prize for the most money raised over two weeks was choosing the color of Mr. B's hair; his class won, and the girls held a vote to determine which colors to choose.
Pink and purple were selected, according to sixth-grader Ella Hubbard, because "they were the most embarrassing" and the younger students agreed. Students first bleached Mr. B's hair blonde so the dye they purchased on eBay would show up.
The girls were interviewed by Sal Spinosa for his community television show "Open Season" on MRVTV while they dyed one side of Mr. B's hair pink and the other side purple. The show is now airing on MRVTV.
The girls presented a check to Mad River Valley Community Fund board member Judy Phelon and flood relief administrator Karen Nevin totaling $641.
Mr. B continues the fund-raising efforts by passing out a card every time his hair color draws laughter or attention; the card has an explanation of the Jeccl Jug project as well as the school's address where funds can be sent. The cards have generated an additional $40 so far.
Mr. B said, "If people see me around town and get a laugh from my multicolored hair, they should feel free to send a buck, $2, $5, $10 or whatever the laugh was worth to them. The money can be sent to the Fayston School in care of Flood Relief/Mr. B's Hair, 782 German Flats Road, Fayston, VT 05673."
They also wrote a book explaining what happened with the flood to read to the youngest classes.
Sixth-grader Camille King said they thought a book would "engage the students more than just talking about it." The girls have visited several younger classes to read the book and explain what happened following Hurricane Irene.
The book is now in the Fayston School library.
{loadnavigation}