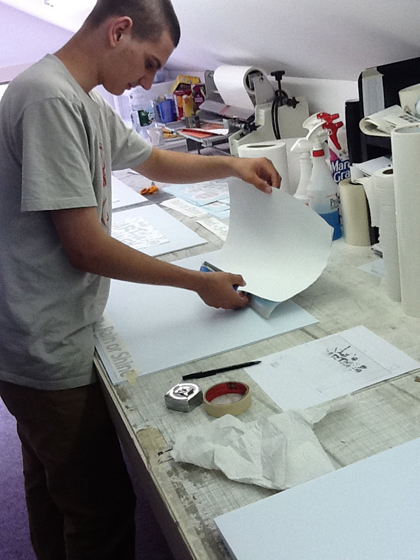 The Harwood Untitled Beginnings Program students at Harwood Union High School recently completed internships at several area businesses and organizations. The students were welcomed into local work sites, allowing them the opportunity to better understand the skills and knowledge needed to be successful in the workplace.
The HUB Program is a learning pathway designed to give high school students the opportunity to seek a unique, interest-based learning experience that combines academics with a community-based internship. Students have the opportunity to explore various fields of work, identify their interests, and challenge themselves in new ways. Having students explore their interests is critical in helping students understand who they are and what kinds of work and learning they would like to pursue, according to program spokesperson Angela Selvaggio.
Once a student completed several job shadows, each student identified businesses as possible internship sites. After connecting with a designated mentor at each location, students attended the internships one to two days a week to learn firsthand about the work being done at the business. Students expanded their interests and challenged themselves in these new settings.
With the help of their mentor, students developed a project that befitted the worksite and complemented the authentic learning being done through the internship. Many students completed hands-on work.
The HUB Program acknowledged the mentors and businesses who welcomed these young people through their doors:
The Mad Taco – Joey Nagy and Kit Perrault
Vermont Sign and Graphics - Dave Bertrand
Sugarbush Health and Racquet Club – Lauren Deeley
SugarbushDay School – Sarah Hurley
First Student Bus Barn – Gerry Christie
Duxbury Auto Tech – Mark Lanphear
ThatcherBrookElementary School – MK Monley
SableViewNaturalHorsemanshipDevelopmentCenter – Leslie Chadwell
Simplicity Farm – Doug Turner
Precious Moments Day Care – Sr. Ruth Young
C&C Services – Janet Doyle and Ron Corliss
Mad River Stables – Barb Ferris
Highlights of the student projects include:
A calorie breakdown for the most popular items on the menu at the Mad Taco
A warm-up and stretch routine for the Valley Rock Wall at Sugarbush Health and Racquet Club.
Thatcher Brook Elementary Art Show
A virtual tour of Simplicity Farm on the Simplicity Farm Facebook Page
The HUB Program thanked all the businesses and community partners (more than 50!) who hosted students for job shadow day.
For more information about the HUB Program at Harwood Union High School, contact Heidi Turgeon-Baird and Angela Selvaggio.
{loadnavigation}