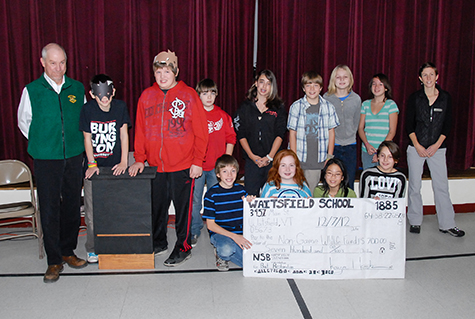 Fifth- and sixth-grade students at the Waitsfield Elementary School raised $700 for the Vermont Fish & Wildlife Department's Nongame Wildlife Fund to support research and conservation of Vermont's bat populations. The students presented the money to director of wildlife Mark Scott and to wildlife technician Alyssa Bennett in an all-school assembly on Friday, December 7.
The students were inspired to raise money for bats after Bennett gave a presentation last spring on the massive die-offs that threaten several of Vermont's bat species with localized extinction. The die-offs have occurred during the last five years due to white-nose syndrome, a fungus that has affected bat colonies in the Northeast.
"At a time when Vermont's bats continue to struggle, we are incredibly thankful to these students and teachers for reaching out to their community, sharing their knowledge and raising financial support for bats," said Bennett. "Vermont has been a leader in bat conservation since white-nose syndrome began to devastate the bat population. Our conservation efforts depend on the citizen reporting and community support we receive to be successful."
After learning about the threats facing Vermont's bats, the students were inspired to embark on a service learning project to help save them. The students built four-chambered bat boxes and sold them to raise money to donate to the Nongame Wildlife Fund. They also filmed public service announcements for their local TV station, composed a brochure on bat conservation and created a children's book on bats for their school library.
"The beauty of this project was the organic development of student-generated projects that directly supported habitat restoration for bats in Vermont," said Waitsfield Elementary teacher Lee Van Dine. "This project engaged students, staff and community members to raise awareness and support."
Bats generate an estimated $3.7 billion a year in benefits to North American agriculture through insect pest control and crop pollination, according to the Journal of Science. Vermont is home to nine bat species. White-nose syndrome has caused a 90 percent decline in Vermont's two formerly most common bat species, the little brown bat and the northern long-eared bat, and it threatens fragile populations of the small-footed bat and Indiana bat.
Find out how to build a bat box, how to report a bat colony, and other ways to help Vermont's bats at www.vtfishandwildlife.com/wildlife_bats.cfm.
{loadnavigation}