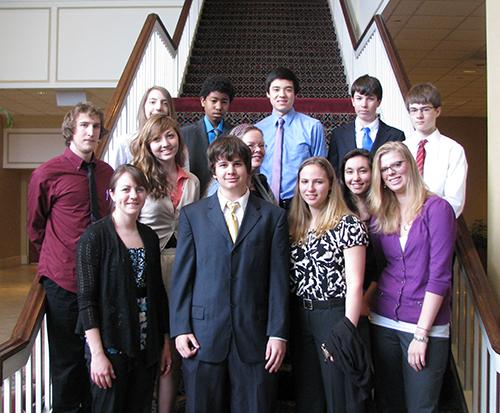 On Thursday and Friday, March 28 and 29, 11 Harwood students and two teachers attended the Future Business Leaders of America (FBLA) Spring Leadership Conference at the Sheraton Conference Center in South Burlington.
In order to prepare for this conference, all students took online national tests beforehand. During the first general session the keynote speaker was Don Holly from Green Mountain Coffee Roasters. During Thursday afternoon students either attended workshops or competed in several business-related events. Thursday evening students participated in a Northern Lights Fire and Lights activities and some went swimming.
On Friday morning students participated in a March of Dimes Walk to Fletcher Allen which was led by Roger Clapp, Vermont's state director of March of Dimes. Students marched with banners they created and once they arrived at Fletcher Allen, they were spoken to by an obstetrician about premature babies. Students' banners were judged and donations were made to the March of Dimes. Harwood Union FBLA donated $100.
The FBLA Banquet and Awards Ceremony took place on Friday afternoon during which Harwood students received 14 awards:
Reuben Kernan, senior, third place in Cyber Security and fourth place in Business Communications; Gianna De Jong-Kaiser, junior, third place in Help Desk, second place in Accounting 1 and first place in FBLA Principles and Procedures; Aenea Mead, freshman, third place in Introduction to Business, fourth place in FBLA Principles and Procedures; Ali Harris, freshman, second place in Help Desk; Emma Helmken, freshman, fifth place in Introduction to Business; Jackie Greshin, freshman, third place in Introduction to Parliamentary Procedure, third place in Hospitality Management; Kobe Borden, freshman, fourth place in Business Math; Eli Winters, junior, first place in Business Math, fourth place in Help Desk; Jackie Greshin was also inducted as next year's Vermont FBLA State Parliamentarian.
Carolyn Feldman, math teacher, attended the conference as Harwood's new FBLA advisor replacing retiring advisor Amy Cavanagh.
{loadnavigation}