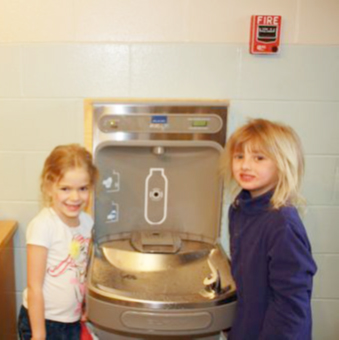 During April break a new water fountain was installed in the front lobby of Warren Elementary School. The fountain also serves as a water bottle-filling station and tracks how many plastic bottles are not used as a result of students and staff using their own washable water bottles.
By the end of the day, Monday, April 29, they had saved the landfill from more than 200 plastic bottles, according to Principal Wendy Cobb.
The school made its decision based on the prevalence of bottled water and the cost of bottled water in terms of the wallet and the environment.
From a peak in 2007, bottled water consumption dropped in 2008, down by 3.8 percent from the previous year. Recently, cities, schools, natural food stores and restaurants have begun to "buy local" – offering tap water rather than bottled – for environmental and economic reasons. For example, last year the majority of mayors at a meeting of the U.S. Conference of Mayors voted to phase out the use of bottled water.
Even though about 23 percent of plastic water bottles are recycled, that still leaves about two million tons of bottles going into landfills annually.
{loadnavigation}