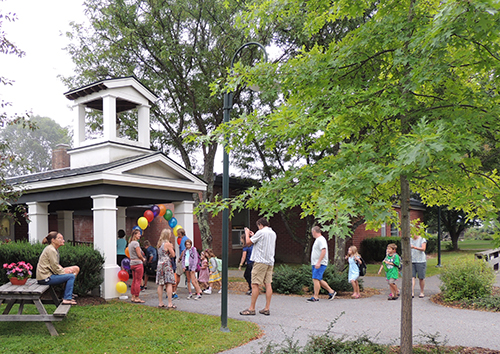 Waitsfield Elementary School rocks – just ask the students!
With 161 students, the Waitsfield Elementary School is bustling and full. Erin Gale joins the school this year as a second kindergarten teacher, marking an expansion in numbers in the kindergarten program over recent years.
"We're also pleased to welcome Eric Mongeon, who is stepping into the newly-created role of librarian and technology integrationist. We believe that this shift in job responsibilities will help us to even more seamlessly support our students in effectively navigating and making use of the wealth of information around them in the world," principal Kaiya Korb explained.
Highlights/Areas of focus
Beginning last year, staff focused upon ways that they could support all students in knowing that notice and appreciate the positive behaviors and choices that students make each day.
"Over the summer, a group of staff worked to further clarify our key expectations across all settings and classrooms. To help all students to achieve success, we look for everyone to be engaged, responsible, safe and kind," Korb said.
These key expectations are echoed in the school motto:
Waitsfield Engages in RespOnsible Choices that are Safe and Kind; or WE ROCK!
The rock theme is echoed throughout the building, from the rock word garden, to the rock cairn mascot that has moved into the lobby.
"We believe that our common language and recognition for all the rockstar behaviors that we see every day will help even further support the positive climate of our school," added Korb.
Warren Elementary new school year
As Warren Elementary School heads into a new year, the biggest change for students has to do with technology.
New this year, the school has hired a technology integrationist, Lianne Petrocelli, to work three days a week in classrooms, as well as a tech IT support person, Keith Puffer, to work with all Valley schools, including one day a week in Warren.
As far as technology in general, "we have more of a team in place this year," Warren Elementary School principal Wendy Cobb said, "and we're at a pretty good point in our technology inventory right now." Currently, the school has two laptop carts, an iPad cart and various other devices to "help students work towards gaining strong 21st century skills," Cobb said.
The school's enrollment for the upcoming school year is currently at 184 students. That includes "pretty close to bursting preschool classrooms" as well as an influx of first-graders, which required the reconfiguration of first- and second-grade groups.
Warren Elementary School parent Laurie Greenberg will join the Warren School Board this year, filling a position vacated by April Smith. Greenberg has a teaching background, and "it will be great to have an educator on the school board."
Last year was Cobb's first year as principal in Warren, and "it was great," she said. "I spend a large part of the year getting to know the faculty and the kids," Cobb said, and she's looking forward to recognizing faces on the first day of classes, as well as seeing new ones.
The Moretown School is eager to get under way for the 2013-2014 school year.
"There are many initiatives, activities and curricular adjustments we have been working on to make this year better than ever," said Principal Duane Pierson. Some highlights include: the continuation of the school's successful and community- supported Educating Children Outdoors program (A North Branch Nature Center partnered kindergarten through second-grade curriculum based on the Forest School's program of Finland); the growing and self-sustaining MECA (Moretown Education Center for All) program providing day care, afterschool and summer programming for students pre-school to sixth grade; our involvement with the Vermont Rural Partnership, supporting grades four through six in the development of service learning projects that engage students with community partners; involvement of our students in a state pilot leadership training with the state YATST (Youth and Adults Transforming Schools Together) initiative; continuation of the 1:1 Digital Wish netbook program for grades three through six, supporting students in the use of technology as an essential tool for learning, creating and connecting with partners across the globe; the continuation of the student-run assembly and newspaper program, collaborating and connecting with staff and families to support our transition to a new classroom configuration and continuously working to improve the way our staff and school community support all Moretown students reach their goals.
The Moretown School welcomes Eileen Rossetti as the school's new music educator for this coming school year.
"We are very excited to have Ms. Rossetti, who comes with a great deal of experience and musical passion for our school community," Pierson said.
{loadnavigation}