When Win Smith, president and owner of Sugarbush Resort for the past 18 years, announced he was selling the resort in November, he listed a few reasons. There was the changing landscape of the industry with its continued consolidation, the cost of doing business in Vermont and challenges associated with climate change.
It's the climate change aspect that's most interesting because it's something that Sugarbush has been fighting for some time.
"Climate change is one of the greatest threats to our world and we are committed to work toward the solution," Smith said.
Sugarbush has undertaken multiple environmental initiatives over the last decade to save funds and reduce the resort's carbon footprint. Sugarbush made expansive snowmaking upgrades, especially when it partnered with Efficiency Vermont to purchase energy-efficient snowmaking systems. The energy saved by operating these new snow guns is by no means negligible. Additionally, the resort phased in LED lighting and paid greater attention to recycling and composting programs. Sugarbush has a long-term partnership with Green Lantern Capital, which helped develop 2.5 megawatts of clean, renewable, solar energy that Sugarbush purchases as discounted net-metering credits.
Certainly, those initiatives save the resort money, but to just look at those initiatives from a cost perspective would be missing the point. Sugarbush undertakes just as many initiatives that don't seem to fit the bill as "cost-saving." Take, for example, the new electric vehicle charging stations. Sugarbush initially installed Tesla chargers at Clay Brook Hotel as an amenity to guests, but it quickly expanded with 13 additional public chargers at Lincoln Peak and most recently an additional nine charging stations at Mt. Ellen. There's no real economic incentive for doing this, though payment for the stations was helped in part by the state and through a National Ski Area Associations (NSAA) Sustainable Slopes Grant. It's a real benefit to guests, while also helping to encourage electric car usage over fossil fuels.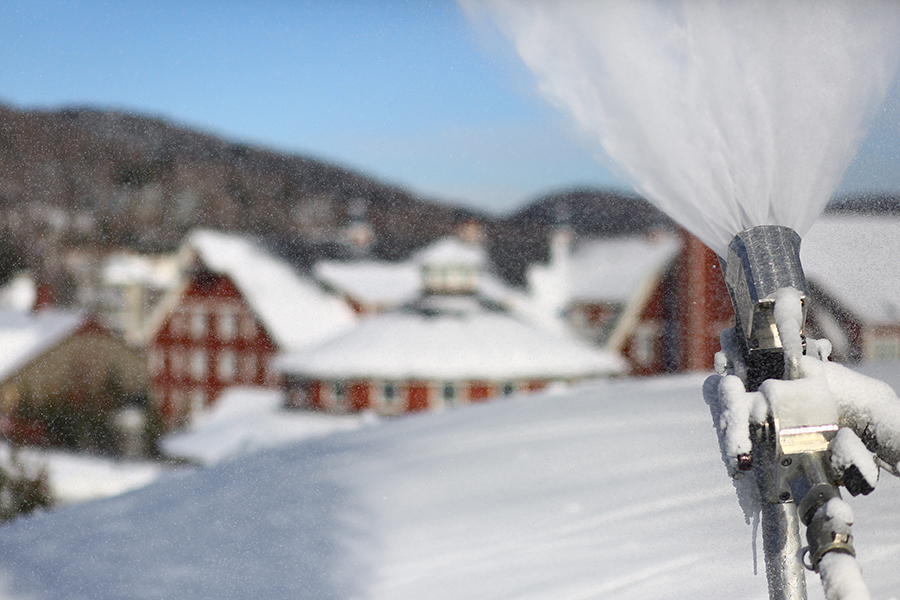 Other initiatives include the biodiesel program, where the resort's off-road diesel fleet including groomers, excavators and heavy equipment run on a biodiesel fuel blend, and a partnership with Green Mountain Transit to help fund and support public transportation in the Mad River Valley during the winter.
It's through all these initiatives that the resort received the Golden Eagle Climate Change Impact Award from the NSAA, the highest honors bestowed on a resort for environmental performance. In fact, since 2014 the resort reduced MTCO2 emissions by 24.4%, or a little over 1,000 tons.
"The credit for that certainly goes to our entire team for the multiple initiatives we have taken in recent years," said Win Smith. "While we're proud of everything we've done so far, we recognize there's still a long road ahead for us all to successfully combat climate change."
So maybe that's why, rather than resting its laurels on past success, the resort has continued to look for ways to continue fighting climate change. Sugarbush recently partnered with Protect Our Winters, a climate change advocacy organization, as well as 1% for the Planet, where Sugarbush's dining venues all donate 1% of their revenue toward an environmental organization of their choice.
With the ownership transition to Alterra Mountain Company, there's no reason to think the resort will reel in its environmental commitments. Alterra also partners with Protect Our Winters and many of its resorts have robust sustainability initiatives. Ski resorts are only a small piece of a global issue, but to them it's important that they continue to do their part, so Sugarbush will continue doing its part for a long time to come.