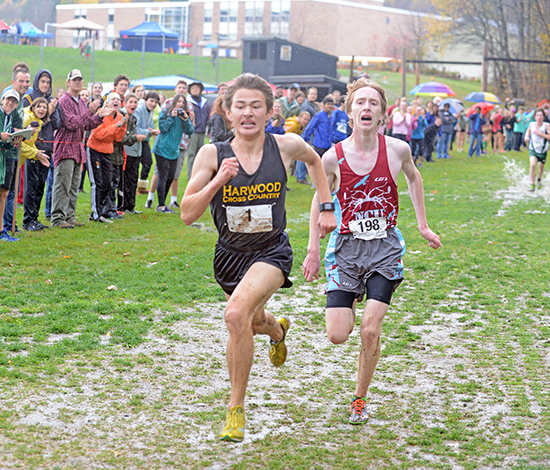 Harwood cross-country dominates at Northern Vermont Athletic Conference East (Mountain Division) Championships
On Saturday, October 18, more than a dozen high schools and 400 individual runners converged on the wooded trails of Harwood Union High School for the NVAC East Championships. This division is one of the most competitive in Vermont and includes schools from the Canadian border of Vermont to the Mad River Valley.
A soaking rain during the morning middle school races made for a slippery track for the high school competitors.
Sam Nishi, Harwood's first All-American in cross-country, gave the home spectators a thrill as he nipped North Country's Sam Brunnette at the line. Nishi fell on the bottom of Tiger's Turn about 1k into the 5k race. He ran cautiously the rest of the way.
"With all of the mud, there were not many opportunities to pull away, so I waited until the finish hoping my finishing kick would be enough," Nishi said.
"It was barely enough as he nipped Brunnette by one-quarter of a second," coach John Kerrigan said.
The rest of the Harwood boys' pack struggled to support their leader. Morgan Baughman (11), Jacob Palmerio (14), Anthony Palmerio (18), Kyle Dash (19), Colin Fennelly (21) and Nathan Palmerio (23) gave it a valiant try, but their effort was not enough to hold off an outstanding Montpelier team that nipped defending champion Harwood by two points. Montpelier boys not only won their first ever NVAC title but also became the favorite to win the Division 2 state meet.
"Montpelier boys have never won a Vermont state title in cross-country. They are a solid team and they are hungry. It will be tough to beat them at states, but our boys always seem to peak at the right time," said Kerrigan.
Harwood girls found themselves in a two-way battle with Union 32 in the 10-team runner field. U-32's Rena Schwartz (1) and Kaylyn Crompton (2) pulled away from Harwood early in the race and Highlanders Erin Magill (3) and Anneka Williams (4) were not able to make up the U-32 early surge. However, Harwood's pack of Phoebe Sweet (5), Charlotte Boyden (6) and Jordy Kulis (8) displaced U-32's third runner. This was enough to give the Highlanders the victory.
"We tried something different today," said Kerrigan. "We let them go and tried to reel their top runners in. We have learned much from this effort today and will employ a different strategy at states."
Both U-32 and Harwood are the teams to watch at Thetford on Saturday, October 25, for the Vermont Division 2 state championships.
"Our girls have won the Vermont state title five years in a row. No other Vermont Division 2 team in any VPA sport has won six straight. We will try to make history on Saturday," said Kerrigan.
For many, the highlight of the day was the JV races. Harwood boys showed great depth by placing Daniel Bevacqui 1st, Tristan Touchette 4th, Cam Alberghini 5th and Acme Wasi 9th. Harwood's fifth runner, Bergen Allison (13), outpaced the number-one runner from several schools. Thomas Reiskin (15) led a Harwood wave of finishers from 18 through 24. That pack included Lucas Boyden, Eugene Cleary, Cormac Stevens, Seamus Collar, Riley Powell and Walker Caffry-Randall.
Kerrigan was excited for the future of his program. "These boys have had a great inspirational leader in Sam; they will help to continue to build upon his legacy."
Harwood JV girls continued the Harwood domination. Aenea Meade sped to a 20-second victory. She was followed by Zoe Pierson (3), Madeline Strasser (6), Carly Wilcox (7) Grace Woodruff (8), Kathryn Pilliod (11), Phoebe Pacheco (13) and Victoria Morgan (14).
Both Harwood boys' and girls' teams should once again be in contention for the Vermont State Division 2 title. The race takes place on the trails at Thetford Academy. The varsity girls' race is at 11:30 a.m.; the varsity boys' race is at 1:30 p.m. Thetford Academy boasts that their trails allow "cross-country at its finest."
{loadnavigation}