Bikers at the Vermont Mountain Bike Association's (VMBA) festival this weekend will be the first to ride yet another trail created by the Mad River Riders (MRR).
The trail, Evolution, has been under construction over the past five years and construction crews have been working all hours of the day in order to make sure the trail is ready for the Vermont Mountain Bike Association festival at Mount Ellen starting Friday, July 22.
John Atkinson, director of the Mad River Riders, has been working with the group since 1994. He has overseen the construction of Evolution since its inception and he has been the head architect of the trail. The work that has gone into this trail is significant because the trail goes through private property as well as public land.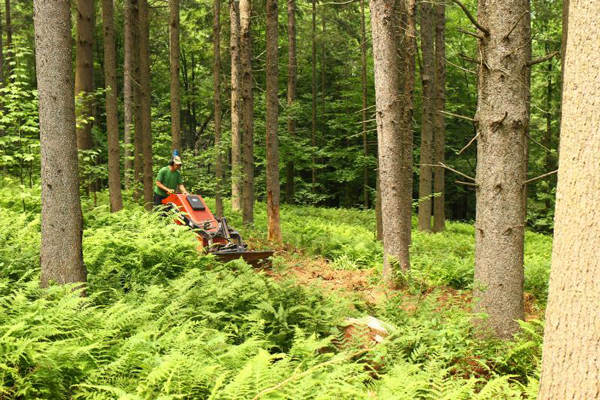 The best way to access Evolution, for the longest ride, is through the Enchanted Forest starting at the top of Tucker Hill Road. Evolution is another intermediate trail that takes riders to Dana Hill Road, and after a minute of riding down Dana Hill Road, Evolution will be on the left.
Evolution takes riders through tight turns and has longer sections of easy downhill riding. It is described as an uphill/downhill friendly route. Although it is currently under construction, riders are itching to get onto the new trail; some have even started riding the completed upper section and turn around when their path is blocked by the construction crew.
Evolution leads riders directly into the Revolution trail, a slightly less technical ride that takes riders all the way down to Lareau Farm, and when the bridge is finished there will be an underpass for riders to head straight to the Lareau swimming hole.
Evolution is the newest addition to the Mad River Riders' trail network which amounts to over 45 miles of trails.
The Mad River Riders have partnerships with the Green Mountain National Forest, Vermont Forests, Parks & Recreation, as well as Waitsfield, Warren, Fayston, Duxbury and Moretown. These partnerships give them credibility when approaching landowners about building more trails on their property.
According to Atkinson, MRR is a community of mountain bikers eager to see the trail network grow and willing to help in the process. Volunteers with the group contribute thousands of hours of work to the trail every year, which may explain why their trails are some of the best kept in the state.
MRR is the largest chapter associated with VMBA and they have a high number of family memberships. The development of Blueberry Lake has been a key factor in gaining family memberships, Atkinson said. It is such a fun and accessible network of trails that riders of all ages can enjoy it.