Mad River Valley Arts presents The Retrospective of Mireille Clapp, "Crossing the Divide, 1995-2017," until March 15, this year.
For Clapp, the 'divide' to cross was between science and art. She was an innovator with material and a pioneering advocate for women's rights in the field of sciences.
Clapp received her PhD in materials science and engineering at MIT. In 1985 she was the first female tenured professor of mechanical and industrial engineering at UMass Amherst in 1985, 100 years after the engineering school started. Her leadership in this regard has subsequently inspired women to become faculty in the sciences. She studied sculpture at UMass, Mass College of Art, and the Museum School in Boston. She showed her work all over New England and has private collections throughout the U.S. and in Canada, China, France, Italy, Spain, and Switzerland.
Despite being trained as a scientist, Clapp was an artist at heart. She saw the parallels between the scientific and artistic process as one of inquiry, experimentation, and research. For her the divide between science and art was an obvious possibility to explore and push with her own visual vocabulary.
"Grecian Sunset, 1998" is an acrylic painting on canvas. Here one sees the merging of conscious and unconscious worlds; an interior landscape of color and shape floating seamlessly in strange choreography.
Materials were the core of Clapp's practice. They influenced her ideas, which tools to use and making as an activity, which sometimes became the primacy over the object itself.
At the Mad River Valley Arts Gallery folks can see her wide display of materials from wood, stone, sea glass and coral juxtaposed to man-made use of metals, aluminum, copper, recycled filters and glass, occasionally in harmony and often in opposition. The viewer can see that opposite forces in material or idea can co-exist and be held together for further comprehension. All of her work is vibrant and colorful. Color never escaped her palette. The natural wood against hard steel is a warm invitation to perceive beauty and craft with industrial materials.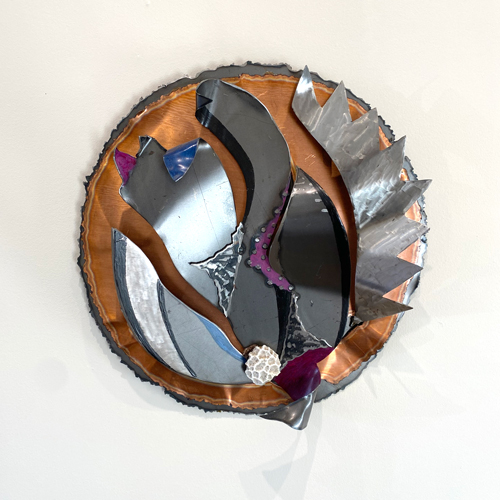 Arthur Dove Redux, 2000: Copper, steel, coral, paint.
Mireille suffered from terrible migraines. This didn't stop her from making, in fact they were a source of innovation. The illusions of migraine auras are visible in the pronounced serrated edges or irregular lines visible throughout the collection. She shared this condition with the artist Arthur Dove, an early American modernist. According to Phil Clapp, Mireille's husband, "Mireille immediately realized the kinship between Arthur Dove's figurative elements and those that she had arrived at independently. She often used rough jagged edges as dramatic emphasis in her sculpture and honored that link of "fellow sufferer." "Arthur Dove Redux" reveals the jagged toothy edge prominently."
"Crossing the Divide" encourages you to discover your own interpretations and meaning. We don't need a representational image to get it. We all know these materials and shapes; we know what movement and color can evoke in us. Whichever split or break we find ourselves in, the work of Mireille opens a possibility to imagine that what is perceivably incompatible, or a clash of forces, acknowledging the tension first is a beautiful moment of relief towards a new path forward," said Sam Talbot-Kelly, executive director at Mad River Valley Arts.